Residence Hall Linens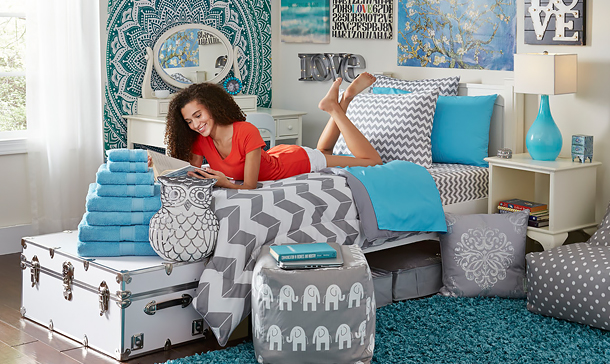 University of California, Davis
Residence Hall Linens and College Bedding Program
---
Specially-sized sheets, blankets and comforters are necessary in some of the residence halls on the University of California, Davis campus. These residence halls have extra-long mattresses, which are more than 76 inches long, so that all students will be as comfortable as possible.
When you reserve your college bedding through this program, you ensure the right size linens for move-in. The selection is larger than you will find anywhere else, at prices that are budget-friendly. Best of all, every product available through this program is guaranteed to fit and guaranteed to last from move-in all the way to graduation. Extra-long sheets, extra-long mattress pads, extra-long comforters, pillows, décor and storage solutions and all other products are backed by this guarantee.

Guarantee Your First Choice Today!
---
We recommend that parents and students respond early in order to have the widest selection of college bedding to choose from. You will guarantee your first choice color or pattern and make great progress on your college shopping checklist.

Testimonials
---
"After receiving your literature, I went to the stores and compared what it would cost me, the stores prices for everything you offered in 'The Complete Campus Collection' totaled over $295.00. I came straight home and ordered your package! Thank you for all the help." - B. Kelly, parent
---
"This is an exceptional value. I know from past experience that dorm beds are impossible to fit - I'm glad this service is available." - N. Lawrence, parent of first-year student
---
"I liked that you had several different "Value Pak" options. I checked out prices at several stores as well as online and found that your prices seemed to be a really good deal." - V. Mead, parent of first-year student
---
"My daughter will be going away to college for the first time. With everything that needs to be done, ordering from RHL made things a lot easier. The time and money saved made it even better." - K. Engel, parent of first-year student
---