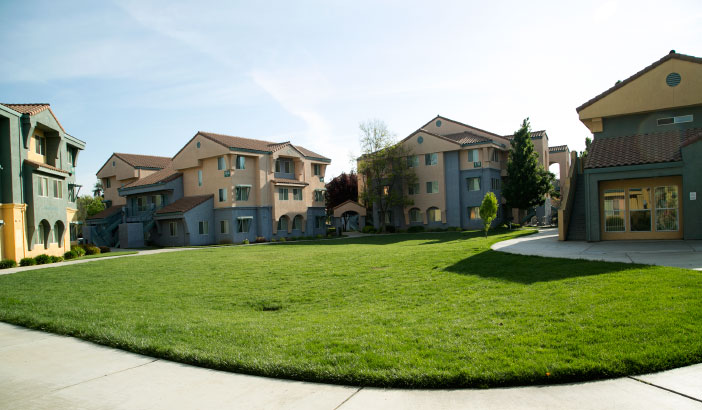 The Colleges at La Rue
A Student Housing Apartments Community
About The Colleges at La Rue
The Colleges at LaRue is located on campus, in between the Student Health and Wellness Center and Recreation Pool and across the street from the ARC Pavilion and Hutchison Field. The Colleges is conveniently located near the University Mall shopping center, which has an assortment of stores and restaurants. The Colleges offer two bedroom, three bedroom, and four bedroom floor plans with single and double bedroom occupancy options.
Building Details
The Colleges features the following:
Floors: 3 floors

2-bedroom units are located on the 1st, 2nd and 3rd floors
3-bedroom units are located on the 1st floor
4-bedroom units are townhouse style on the 2nd and 3rd floors

Occupancy Type(s): single- and double-occupancy rooms
Room Configuration(s): apartment-style configuration: bedrooms located off a shared living room
Room Size: Ranges from about 150-155 square ft
Bathrooms: 2 bathrooms in each apartment
Laundry Facilities: 2 twenty-four hour laundry rooms
Flooring Type(s): all bedrooms are carpeted; kitchens and baths have linoleum tile; first floor 2-bedroom, 3-bedroom, and 4-bedroom units have tile in common space; second and third floor 2-bedroom units have carpeted common space
Bed Type(s): extra-long (80 inch) twin beds
Computer Network Connection(s): eduroam wireless; wireless router not provided
Landline Telephone Availability: optional; subscribe through UC Davis Communication Resources
Mailbox Location: Central kiosk at front office; packages are accepted by office
Additional Notes: all units have a stove, oven, microwave, dishwasher, and refrigerator
SHA Population: 100-223 students
Amenities: 24 hour fitness center, 24 hour study centers, located next to the Rec Pool, and BBQ areas and courtyards, access to campus computer centers
Parking: Parking is limited; students will be assigned space based on lottery
Maps and Plans
Mail, Mailboxes, and Care Packages
Use the following address to send mail and packages to residents of The Colleges at La Rue.
There is one mailbox for each apartment. Mailboxes are located near the office.
Packages that do not fit in a mailbox are held at the office until residents can pick them up. The office notifies residents via email when they receive packages.
Mailing Address
(student name)
(Building #) Orchard Park Drive (Apartment #)
Davis, CA 95616
Items in parenthesis should be customized with residents' specific information, including their names and room numbers.
Only apartment number is needed; do not include bedroom letter.
Move-In Information
Refer to the move-in webpage for information about moving in to The Colleges At La Rue. Move-in details vary based upon the time of year.