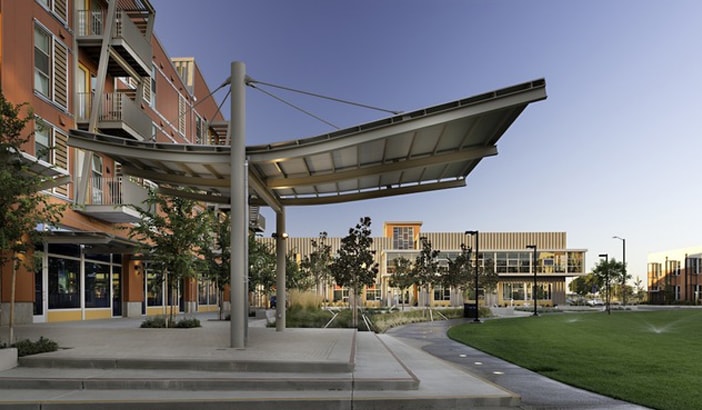 The Ramble at West Village
A Student Housing Apartments Community
About The Ramble at West Village
UC Davis' West Village is a campus neighborhood located on UC Davis land, adjacent to the core campus. The Ramble at West Village is an energy efficient property, and is the largest planned zero net energy community in the United States. The Ramble at West Village offers SHA students three and four bedroom apartments with an equal number of bathrooms to bedrooms. There are both single and double occupancy options. Management frequently hosts social events throughout the year, giving students a chance to meet and interact with fellow students. The Unitrans V line runs to the West Village neighborhood.
Building Details
The Ramble at West Village features the following:
Floors: 3 floors
Occupancy Type(s): Single- and double-occupancy rooms
Room Configuration(s): Apartment-style configuration: bedrooms located off a shared living room
Apartment Size: 898-1453 square ft
Bathrooms: 3 or 4 bathrooms in each apartment
Laundry Facilities: Full-size washer and dryer in each apartment
Flooring Type(s): All bedrooms feature carpet; bathrooms have linoleum; common space and kitchen feature vinyl plank
Bed Type(s): Full XL; Double spaces within 3 bedrooms have Standard Full
Computer Network Connection(s): Community-wide wireless; Ethernet port in each bedroom; personal wireless router not allowed; Korcett - Wi-fi and hard wire plug in each bedroom
Landline Telephone Availability: Landline connection is available in each bedroom and the common area through students' own provider
Mailbox Location: Mailboxes are located just outside of the leasing office; USPS uses package lockers for deliveries too large to fit in a mailbox; packages delivered by all other carriers are not accepted by the office
SHA Population: 114 students
Amenities: Pool, spa, heated lap pool, weight room, yoga studio, movie theatre, gaming center, pool tables, ping pong, multiple televisions, BBQ, 24 hour cyber center, outdoor kitchen with BBQ, Bike parking and repair, Café, market and restaurants
Parking: Parking is available at an additional cost through West Village management; Student Housing does not guarantee parking will be available
Maps and Plans
Mail, Mailboxes, and Care Packages
Use the following address to send mail and packages to residents of The Ramble at West Village.
There is one mailbox for each apartment. Mailboxes are located near the office.
USPS packages that do not fit in a mailbox are placed in the Parcel Lockers (located next to the mailboxes). All other delivery companies are required to attempt delivery to residents' front doors. If resident is not home, they will either leave the package on your door step or notify you that a delivery was attempted. Packages are not accepted on residents' behalf in the office. Please contact delivery company directly for questions regarding delivery protocols.
Mailing Address
(student name)
301 N. Sage St.
(Apartment #)
Davis, CA 95616
Items in parenthesis should be customized with residents' specific information, including their names and room numbers.
Only apartment number is needed; do not include bedroom letter.
Move-In Information
Refer to the move-in webpage for information about moving in to The Ramble at West Village. Move-in details vary based upon the time of year.