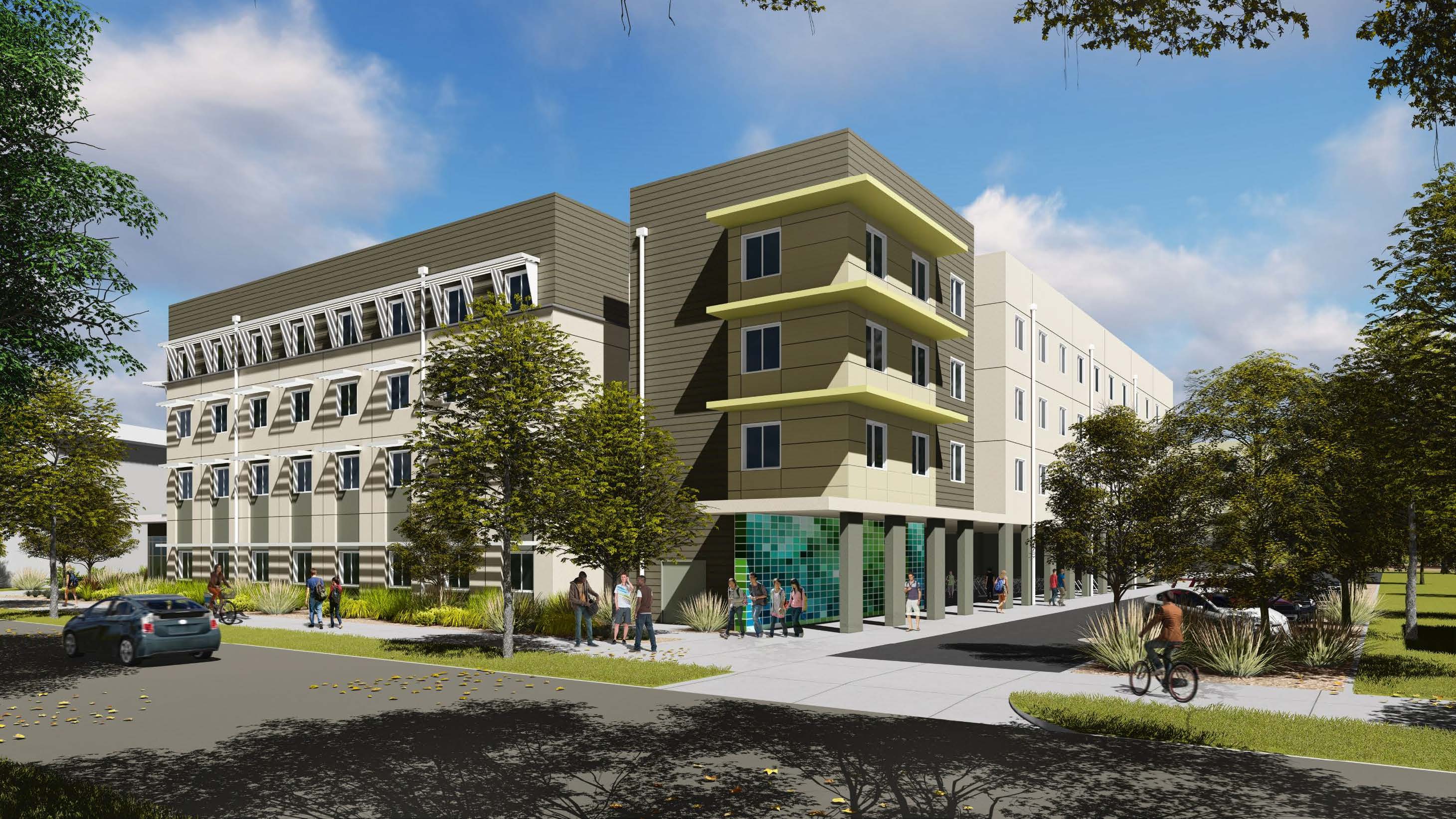 Yosemite Hall (Webster Hall Redevelopment)
Summary
Yosemite Hall is scheduled to be constructed during 2017-2019. Yosemite Hall–a redevelopment of Webster Hall–will increase the bed count to 390 beds from the old Webster Hall's 266 beds. The project also includes a new Area Service Desk, computer center and mailroom for Cuarto. Yosemite Hall will feature residence hall-styled rooms (no kitchens); like all residence halls, residents will eat in the dining commons. The project cost is estimated to be $45 million.
Project Goals
Program Improvements
The new facility will better serve the living/learning environment which is critical to a residential experience. The property will have increased program space and will be designed to foster community development and interaction.
Increase Density
The 2020 plan requires a substantial increase in beds to be provided by the university. Redeveloping Webster Hall allowed for an additional capacity of up to 124 additional beds.
Project Scope
New 4 story building; 390 total beds - an increase of 124 beds over the current Webster Hall structure:
3 Upper Floors: + 27,000 gsf each

Approximately 115 beds each
Total 344 beds; 81,000 gsf

Ground Floor: + 21,000 gsf

46 beds
Academic Advising Center
Computer Center
Mail
Area Service Desk
Community Kitchen
Senior RA Apartment
Leadership in Energy and Environmental Design (LEED®)
Yosemite Hall is anticipated to be LEED certified–and will strive for LEED Gold–under the LEED-Building Design and Construction rating system, formerly known as New Construction and Major Renovations..
The LEED green building certification program promotes a whole building sustainability approach by recognizing performance in five areas: sustainable site development, water savings, energy efficiency, materials selection and indoor environmental quality.
Budget and Funding Plan
The estimated budget (as of June 2016) is $45 million. It will be funded through a combination of financing and equity contributions from Student Housing reserves. Student tuition is not allocated toward the construction of residence halls.
Student Outreach
Student Housing, in partnership with Design & Construction Management and an architect team, completed student focus groups during Spring 2015 and conducted an on-line survey which went to all residents living in Cuarto. Students, along with staff who work in the Cuarto area, provided input on the building, floor and room designs along with the preferred amenities they thought would benefit first-year students.
Design Team
Timeline
Site Preparation:
Begins summer 2017
Construction:
Fall 2017 through summer 2019
Opens:
September 2019