Reaching The Residents

A Guide for Departments & Student Organizations at UC Davis
Thank you for taking an interest in reaching out to our residents. The residence halls house about 6000 first-year students as well as about 3300 transfer and returning students in The Green at West Village apartment community. As a campus department or registered student organization (RSO), you may want to reach out to students living in student housing to encourage them to get involved with your organization or utilize your department's services.
We value what you have to offer, which is why we prepared a process and guidelines for distributing information to the residents while safeguarding their safety, security and privacy. If you have any questions about the process or guidelines, please contact the Office of Student Development by emailing us at reachingtheresidents@ucdavis.edu. We look forward to working with you this year.
Policies in this Guide may be changed in accordance with COVID-19 health guidelines or restrictions.
Solicitation Policy
Respect for the privacy and privileges of the residents and their community is of utmost importance. The residence halls and The Green apartment complexs are the "homes" of the students who reside there; therefore, they are a restricted area.
Solicitation is defined as any uninvited contact, generally involving a request or literature distribution. No solicitation is allowed in the residence halls, dining commons, The Green, or the surrounding areas, as defined in the following section.
NOTE: The only public area of Student Housing is the main Student Housing Office. Solicitation is allowed in this area with the written consent of the Director of Student Housing or his/her designee.
---
Residence Hall Boundaries
The residence halls, dining commons, and their surrounding outside areas are to be defined by the following perimeters:
Segundo Boundaries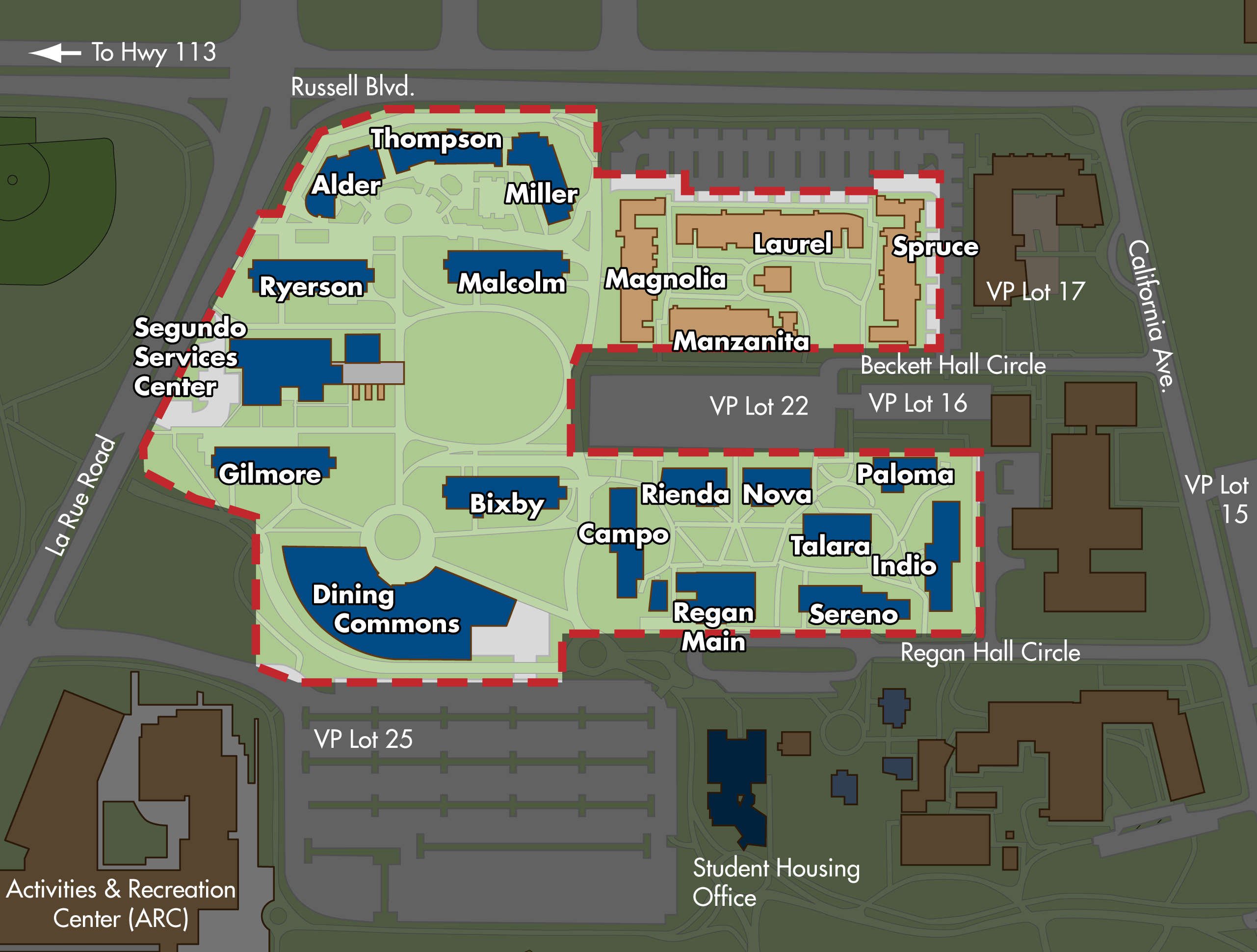 East: California Avenue
West: LaRue Road
North: Russell Blvd.
South: Parking Lot 25
Tercero Boundaries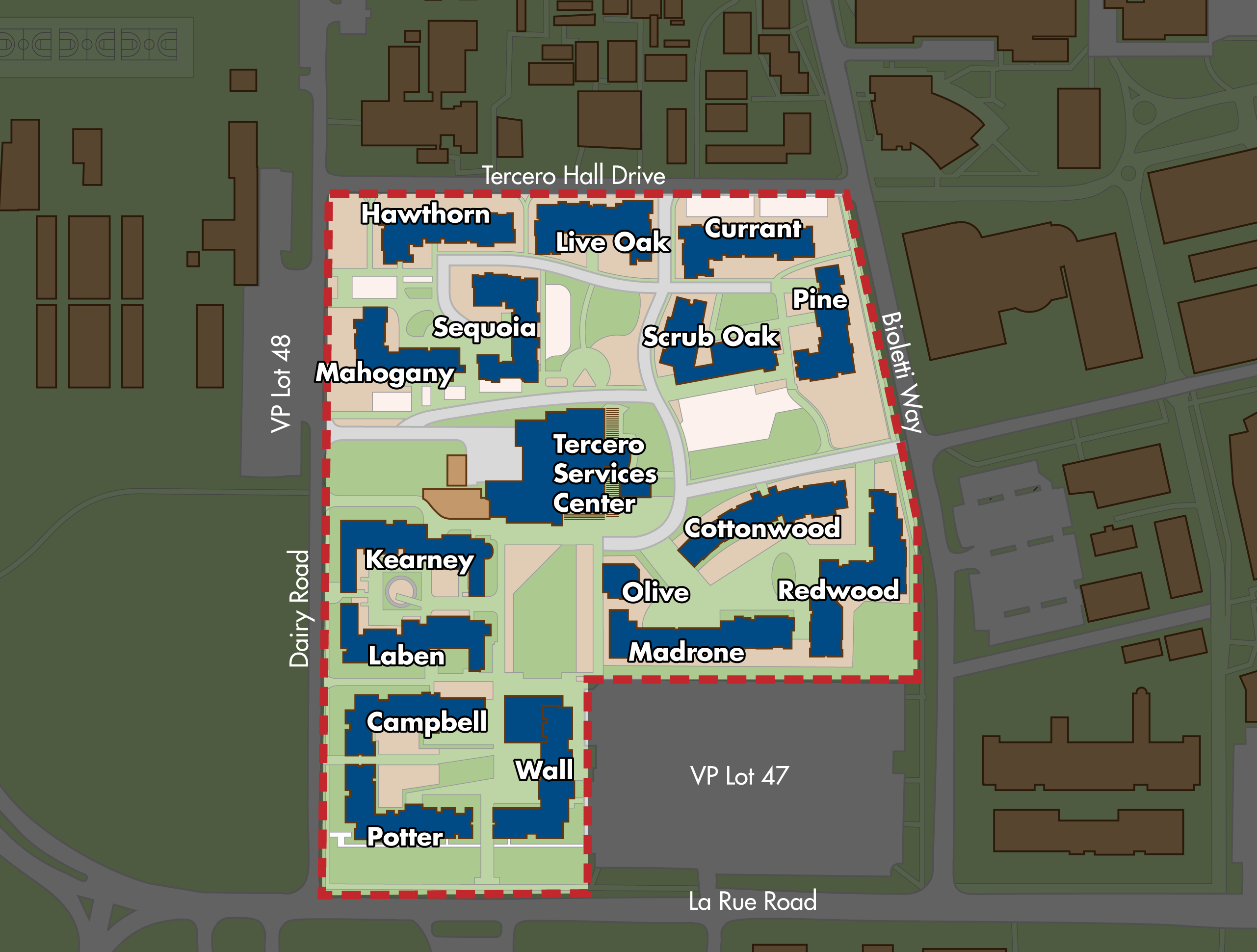 East: Bioletti Way
West: Dairy Road
North: Tercero Hall Circle
South: LaRue Road
Cuarto Boundaries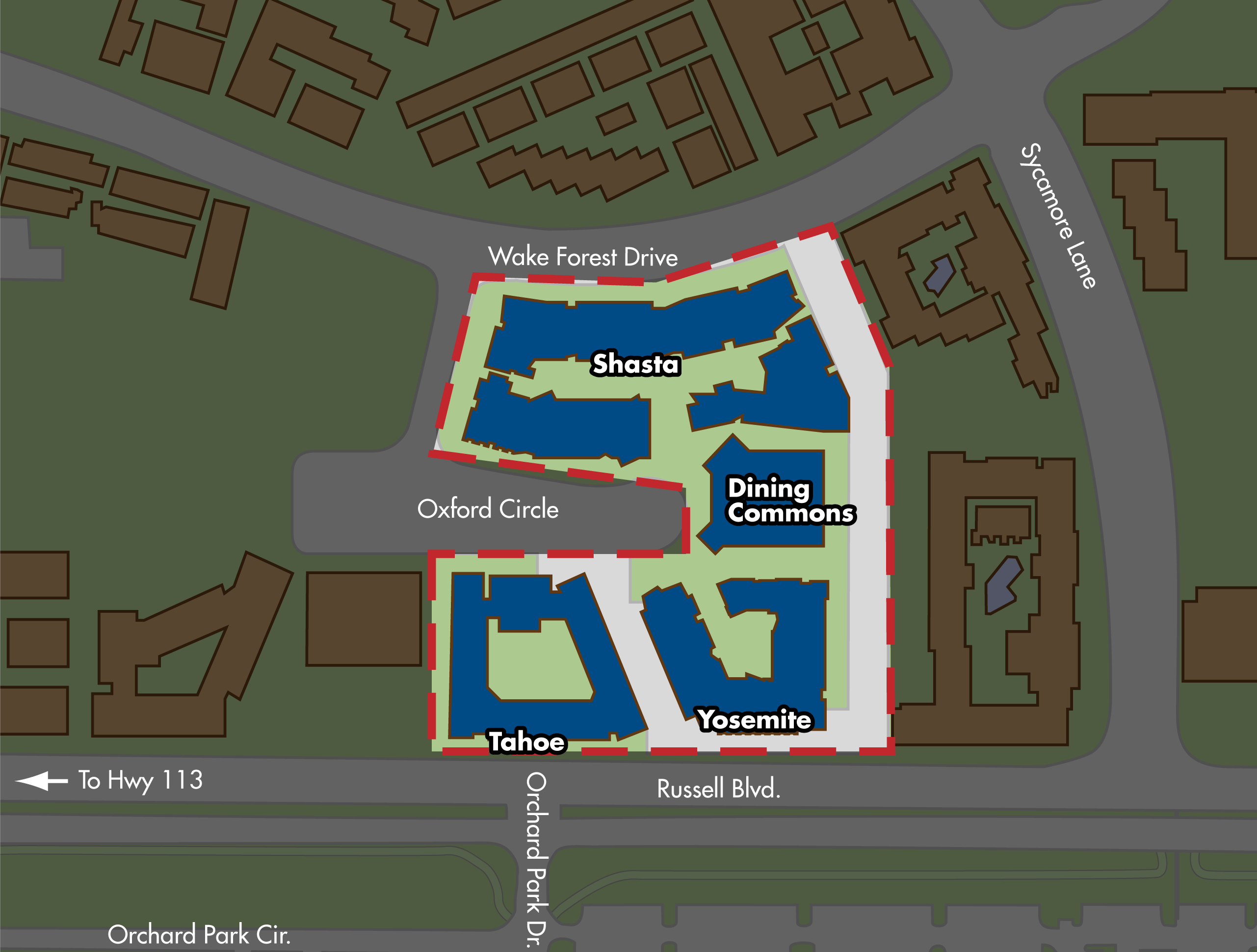 East: Sycamore Lane
West: Oxford Circle
North: Wake Forest Drive
South: Russell Boulevard
The Green Boundaries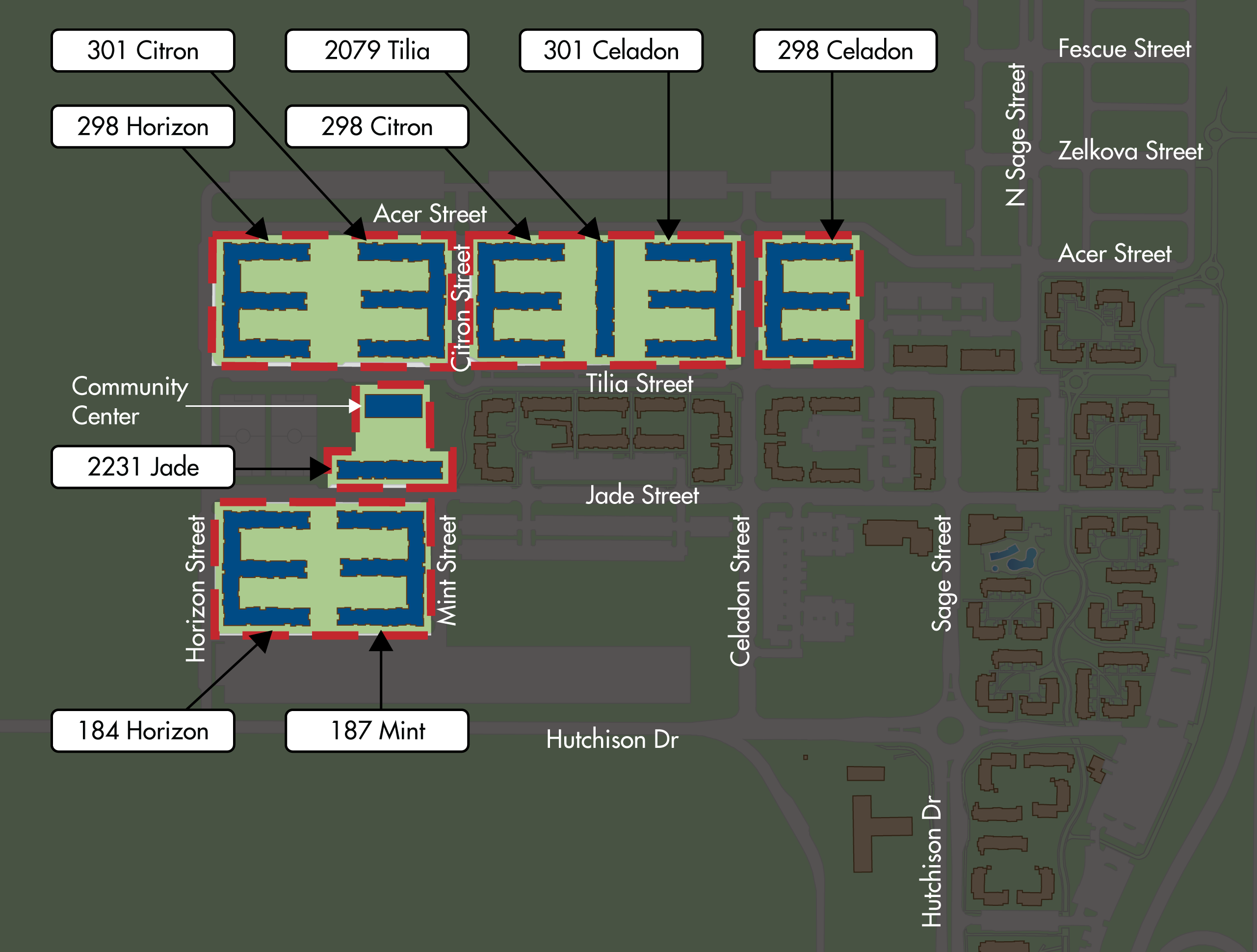 East: Sage Street
West: Horizon Street
North: Acer Street
South: Hutchison Drive
Download the Residence Halls Boundaries Maps (pdf)
---
Ways To Reach Residents
There are four ways for campus departments, registered student organizations (RSO) and non-campus groups to reach out to students living in the residence halls. (Non-campus groups are limited to posting on public bulletin boards.)
| Medium: | Dept | RSO | Non-Campus |
| --- | --- | --- | --- |
| Public Bulletin Boards | Yes | Yes | Yes |
| Posting Flyers in Residence Halls | Yes | Yes | No |
| Tabling | Yes | Yes | No |
| Aggie Reader Newsletter | Yes | Yes | No |
| LCD Displays | Yes | Yes | No |
Items Not Allowed
Dining Commons Table Tents
Posting and table tents are not allowed in the dining commons except for Student Housing-sponsored events.
Collection Bins
Because of fire code and policies surrounding Environmental Health and Safety, we only allow collection bins in the residence halls for Student Housing sponsored programs and the recycling bins placed by waste management. Placing collection bins in the residence halls is against Student Housing's solicitation policy; breach of this policy could be considered trespassing.
Chalking Policy
Student Housing does not allow "chalking" - the writing of information using chalk - on sidewalks, buildings, or other structures in the Student Housing areas. Refer to the UC Davis Policy and Procedure Manual, Chapter 310, Section 27, and in particular, Part 3, Section A, for more information.
Mailboxes
Student Housing does not place materials in the residence hall mailboxes.
---
Voter Registration
Student Housing encourages voter registration and makes exceptions to the solicitation policy provide opportunities for residents get information about elections and participate in the election process. We provide residents with official State of California Voter Registration forms when they check-in to the residence halls and Student Housing Apartments, and we work closely with ASUCD to promote voter registration among our residents. We also host programs to educate residents about elections. We do not permit individuals to attempt to register voters in any Student Housing outside area or to go door-to-door in the residence halls unless they have prior authorization from Student Housing.
If a person would like information about how to register voters, please contact Student Housing at 752-1736.
---
Comments, Questions, Concerns?