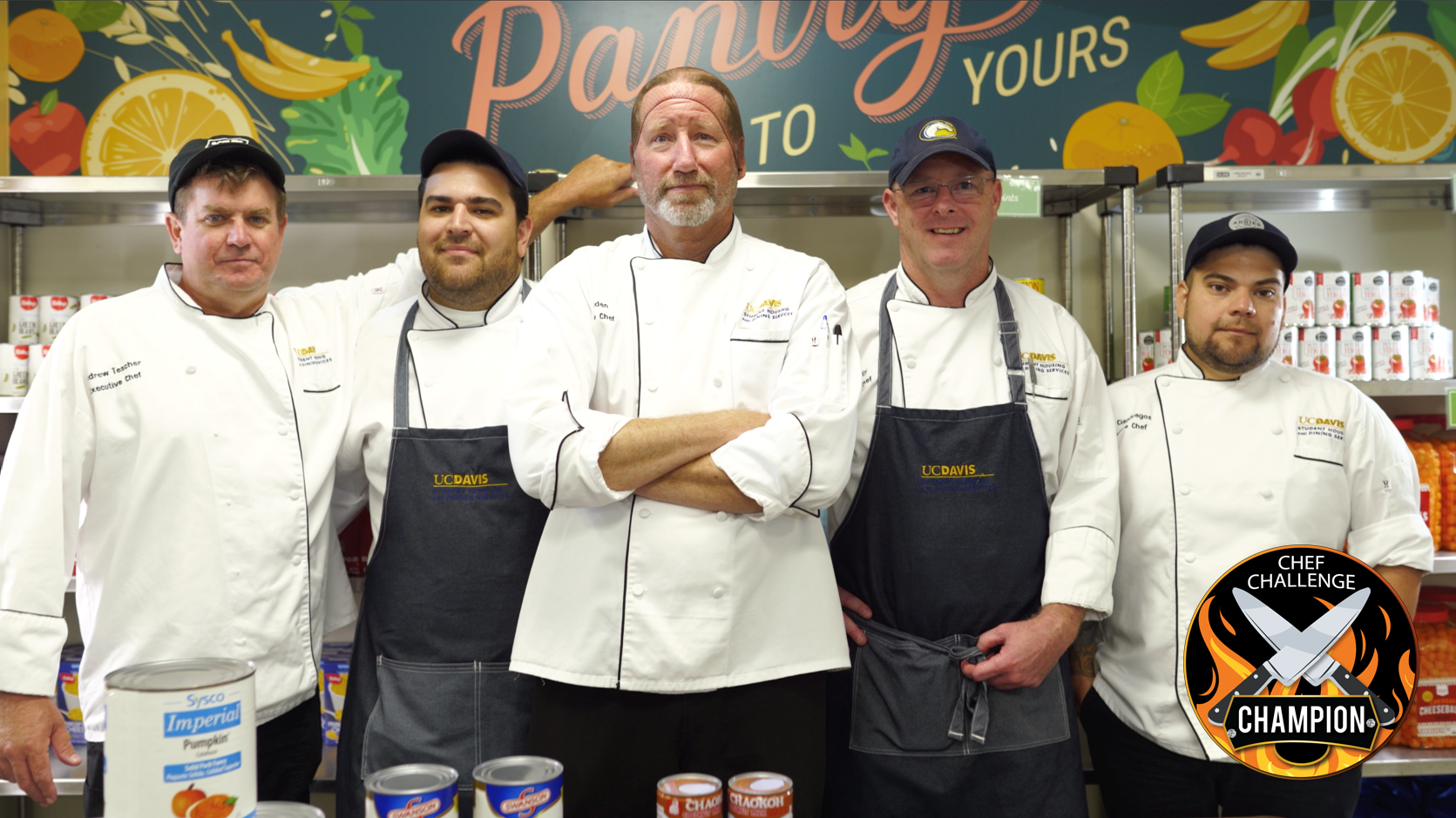 Chef Challenge
Each quarter, Dining Services hosts the Chef Challenge, where each head chef and their team of sous-chefs compete to develop a recipe that produces the best dish possible, according to a special theme or challenge. Winners are determined by judges who score dishes based upon their appearance (value: 1x), creativity (value: 1x), and taste (value: 2x).
Winners
The winner of the Chef Challenge is immortalized, the name of their dining location enscribed upon the Chef Challenge Title Belt.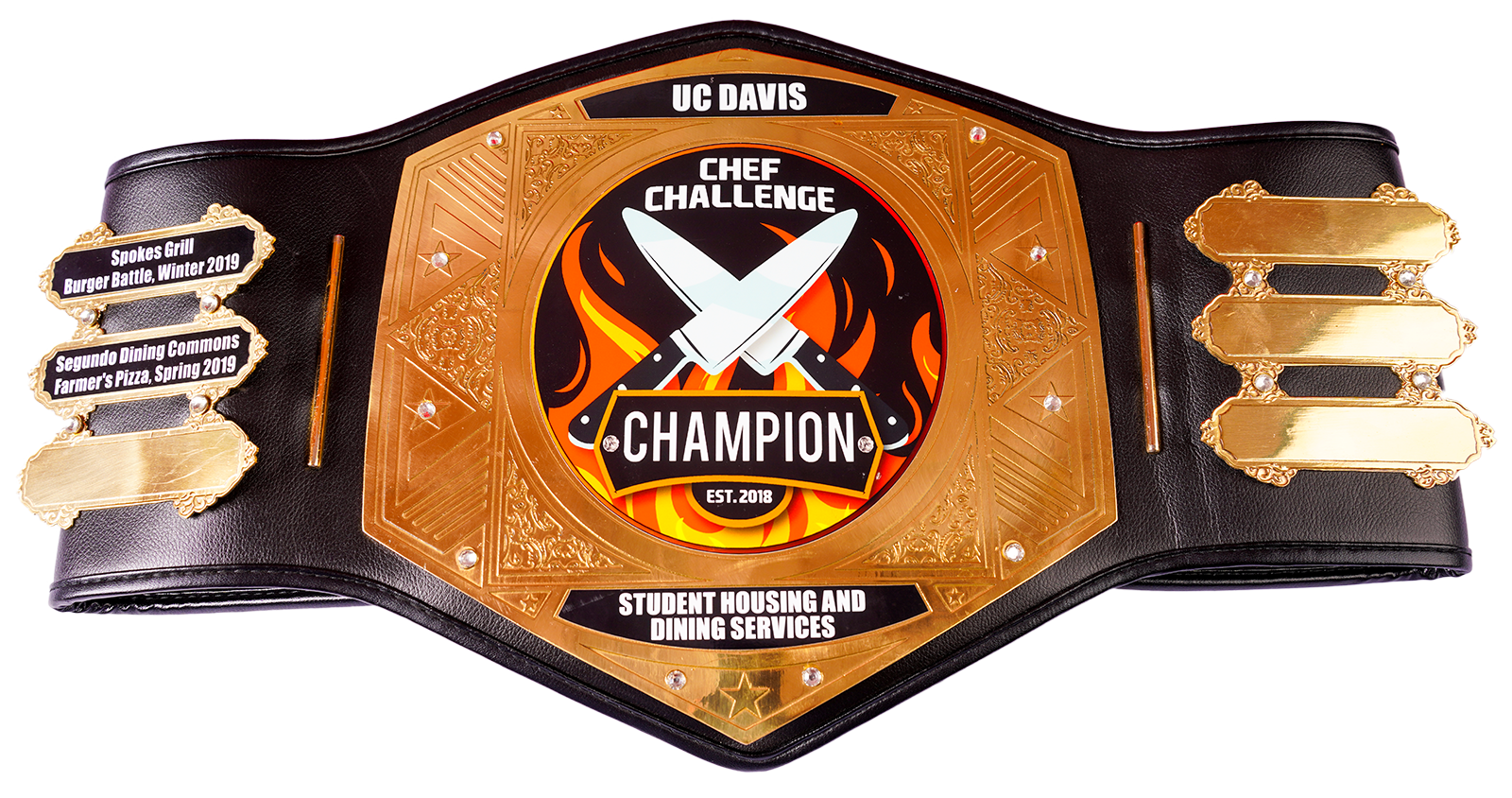 Our dining guests win too: all Chef Challenge entries are served in their respective dining locations as a chef special soon after the Chef Challenge is completed.
Fall 2019 Chef Challenge
For fall quarter 2019, Dining Services is partnering with The Pantry and Aggie Compass. The challenge is to create a delicious and healthy entree using ingredients regularly available from The Pantry or the Aggie Compass. An additional requirement for this Chef Challenge: dishes need to cost less than $1.25 per plate. Also, bonus points will be awarded for the use of the optional ingredient.
Dishes created for the Chef Challenge will be served in our dining locations on November 19, 2019!
Ingredients
Mandatory Ingredients:
Canned Chicken
Coconut Milk (canned)
Yacón / Sweet Potato
Romanesco
Meet our Contestants
Bob Walden, executive chef for the Culinary Support Center
Mom taught me how to cook at a young age. When most ages were playing in the fields or the streets, I was actually baking cookies with my buddies and that's where I learned how to cook.
Cesar Cienfuegos, executive chef for Segundo DC
I've always cooked, it was more of a necessity. I have a younger sister and she's 2 years younger than me. Growing up, my parents were always at work so we always had to figure some things out. So I was always cooking and trying new things out. After that, I learned a lot from my dad. That got the confidence going until I entered the industry. I learned as I went. After a few years of that, I went to culinary school and I trained classically French. It was mostly the fact that I was willing to try things out. I think that's the key, being willing to mess up and expose yourself. That's the key to growing as a chef as well, being okay with messing up.
Robert Reilly, executive chef for Tercero DC
When I was 16, I got a job at the Beverly Garland Hotel under an executive chef named Dale Keith. He taught me, brought me in. I was probably cooking for 3-4 days, I didn't follow instructions, and so I was put into the dish room for about 6 months. Then he brought me out and tried it again. From then on, he took me under his wing for about 5 years.
Janos Levin, executive chef for Cuarto DC
We're [Cuarto DC] a little bit smaller, so we have a little bit better food... but don't tell anybody.
Andrew Tescher, executive chef for Retail Dining
Find me mostly at Scrubs Café or The Gunrock.