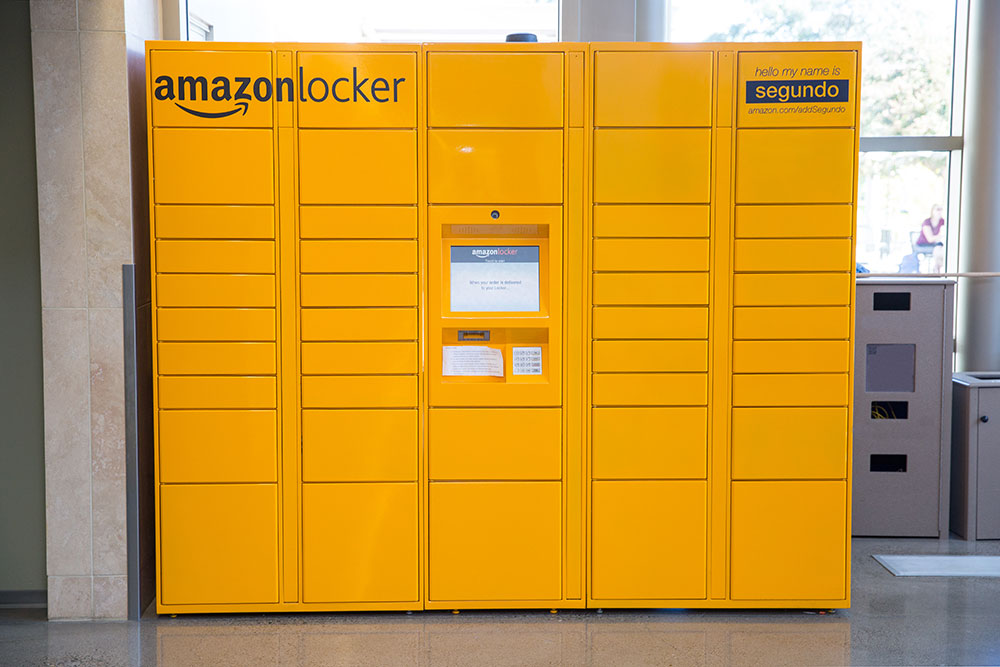 Amazon at UC Davis
There are several Amazon locations on the UC Davis campus: a physical Amazon store at the Memorial Union and Amazon Lockers in several locations.
Amazon@UC Davis Store
Amazon@UC Davis is located next to the Campus Store inside the Memorial Union, with its own entrance and hours. It provides a secure, convenient location to pick up and return Amazon orders. To see current hours, or to learn more, visit the Amazon@UC Davis website.
Prime Student—Amazon Prime for Students
Amazon offers Prime Student, a student-only Prime subscribtion that provides benefits similar to Amazon Prime and offers a no cost trial for the first 6 months. After the trial, enjoy Prime at half the regular price.
Amazon Prime includes free delivery on many items, streaming entertainment including TV shows, movies and ad-free music, and access to free books and more. Any UC Davis student can sign up for a Prime Student account. To learn more about Prime Student, visit amazon.com/joinstudent.
Amazon Lockers
In addition to the Amazon@UC Davis store, Amazon Lockers are available on the UC Davis campus in residential and public campus locations.
Segundo
Located in the main lobby of the Segundo Services Center (by the Area Service Desk)
Available to all UC Davis students during Segundo Service Center operating hours
Available 24 hours to residence hall students only
Tercero
Located in the main breezeway of the Tercero Services Center (by the main, east stairwell, outside of the Area Service Desk)
Available to all UC Davis students during Tercero Service Center operating hours
Available 24 hours to residence hall students only
Memorial Union
Located outside on the east side of the MU
Available 24 hours to all UC Davis students
ARC
Located inside the ARC lobby, inside the study lounge across from the business center
Availability subject to ARC business hours; check the ARC website for current business hours
How To Use Amazon Lockers
While placing an order at Amazon.com:
When selecting a shipping address, there will be an option to "Try Amazon Locker" - click this link
On the next screen, in the "search for an Amazon Locker near you" panel, select "Search by Zip Code" and enter the Davis zip code: 95616
The "Amazon Locker Search Results" will update to show the Amazon Lockers closest to 95616
Select "Ship to this address" next to one of the Amazon Locker choices