eWaste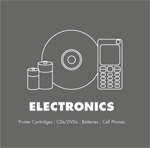 Electronic Waste (eWaste)
eWaste must be specially disposed of. Many common products require special care for disposal and, by California law, are banned from the trash.
What can be collected?
Batteries
Small electronics
CDs
DVD's
Inkjet cartridges
Cell phones
Locations of "eWaste" Collection Bins
eWaste collection bins are located near each Area Service Desk in Cuarto, Segundo, & Tercero.
Call 530-752-2759 or email sustainablehousing@ucdavis.edu if you have items that will not fit in collection bin.