Mixed Recyclables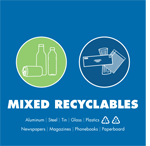 All Student Housing and Dining Services areas collect recyclables in one bin, which is known as "mixed recycling." In other words, paper can be put into the same bin as aluminum cans—no need to separate the items. Examples of recyclables include:
Aluminum cans
Aerosol cans - only if completely empty
Plastics #1 thru #7 (find the number on the bottom of the container)
Glass bottles and jars of any color
Steel and tin cans
White or colored paper (staples are OK)
Sticky notes
Envelopes
Magazines
Newspaper
Paperboard (e.g., snack or cereal boxes)
Paper grocery bags
Phonebooks
Junk mail
Cardboard
Flatten cardboard boxes and place in the proper bin. Boxes are not to be placed in chutes or in the mixed recyclables toters. Click on area for cardboard collection bin locations: Cuarto, Segundo, Tercero.
Pizza Boxes
Pizza boxes free of grease and/or food residue can be recycled. If the box is contaminated with grease and/or food residue, the box can be deposited into the compost collection bin.
Where does it go?
Mixed recycling is taken to Recycling Industries in Sacramento, CA.
Recycling on campus, outside of Student Housing and Dining Services areas
Please read the labels on campus to properly dispose of items. Not all buildings on the UC Davis campus have the same recycling system. See the Sustainable 2nd Century Waste Reduction webpage for more information about recycling at UC Davis.