Reusable Items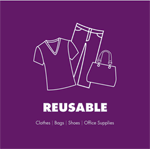 Reusable items are gently used items that can be reused for the same function or given a new life where it is used for a different function. By taking useful products and exchanging them, without reprocessing, reuse helps save time, money, energy, and resources. Examples of reusables include:
School supplies
Office supplies
Books
Clothing
Clothing accessories
Art and craft materials
Video games
Small housewares
Small (working) electronics
Bin Locations
Reusable collection bins are located near each Area Service Desk in Cuarto, Segundo and Tercero.
Where does it go?
The items collected are donated to Aggie Reuse Store. Aggie Reuse Store is a second-hand shop located in the Silo at building TB24, behind the Bike Barn. The store collects and redirects gently used items and promotes environmental awareness through creative reuse of these discarded materials. The store is run solely on donations and encourages students, staff and campus departments to donate to the store before heading to the dumpster.