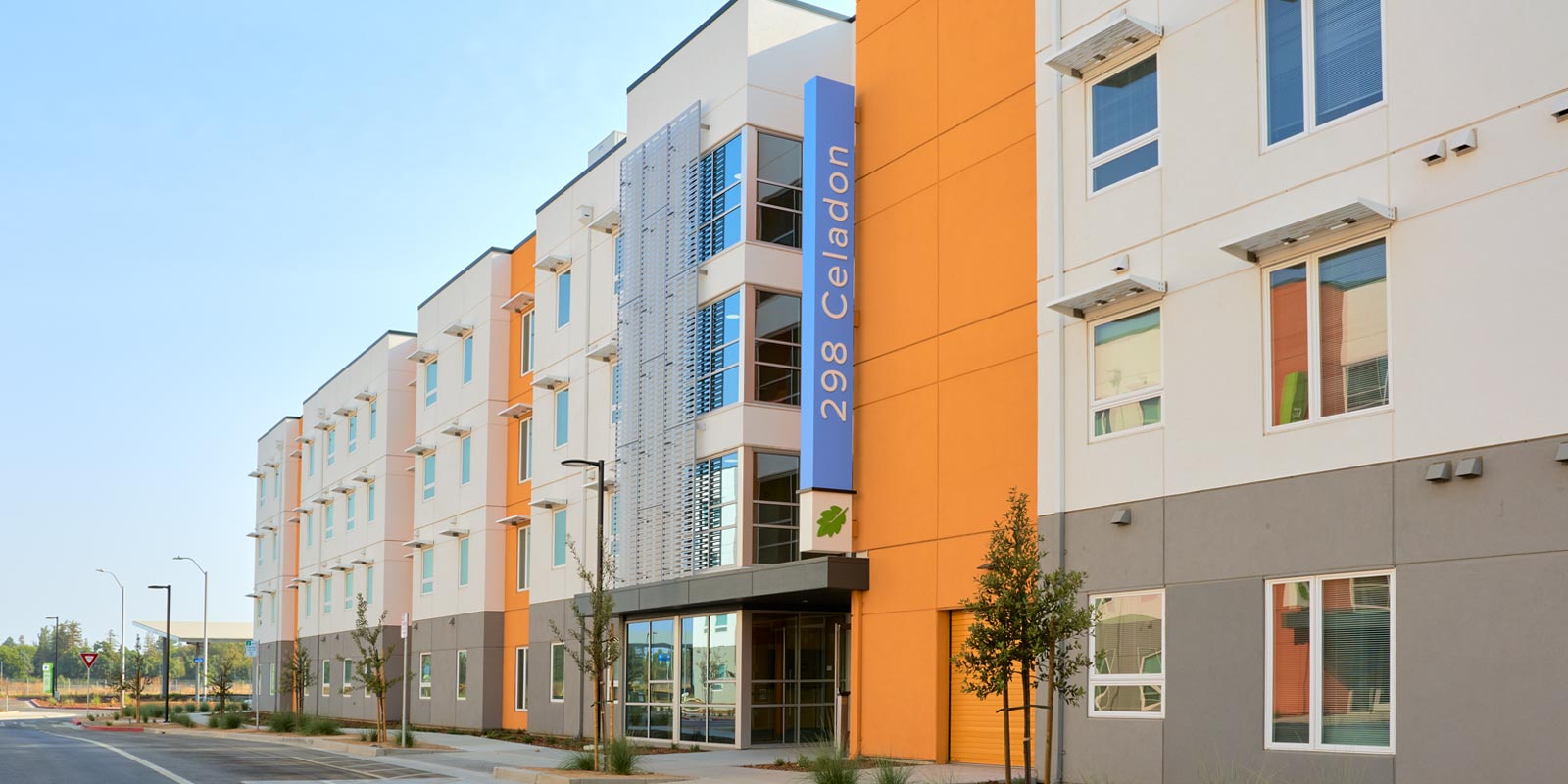 About The Green at West Village
The Green at West Village is located in the UC Davis West Village neighborhood on the UC Davis campus. With its expansive solar electric arrays, the community contributes to the overall neighborhood goal of zero-net-energy. The Green at West Village offers students a variety of amenities while conveniently located adjacent to the core campus. Transportation is readily available as the ASUCD Unitrans V Line services the neighborhood frequently. The Green at West Village primarily houses incoming transfer students, but also houses second-year transfers and returning students. Residents have the opportunity to build a community while hosting social events throughout the year, giving students a chance to meet and interact with their fellow students.
Building Details
The Green at West Village features the following:
Fully furnished apartments
Full kitchen and common space
Fitness Center
Recreational area with games and equipment
Community Center
Dedicated Unitrans Line
High Speed Wi-Fi Internet included
Stream2 IPTV 80 channel television line up included
Water, trash, compost and electricity included
Study rooms on every floor
Residential programming provided by UC Davis
Floors: 4 floors
Occupancy Type(s): single- and double-occupancy bedrooms; single-occupancy studio apartments
Room Configuration(s): apartment-style configuration: bedrooms located off a shared living room; and studio apartments (one-room apartments)
Laundry Facilities: Full-size washer and dryer facilities are available in each building
Flooring Type(s): All bedrooms feature carpet; common spaces, bathrooms and kitchens feature LVT plank; studio apartments are 100% LVT plank
Bed Type(s): standard full beds
Transfer Student Population: 1,005 students
Amenities: Access to campus computer centers
Parking: Parking is an additional cost through the property management; parking availability is not guaranteed
Community Center and Fitness Center Hours
Community Center Office: open 9 a.m.–4 p.m.
Fitness Center: open 24 hours a day
Social Gathering: open 24 hours a day unless it has been reserved
Games and equipment: may be checked out from the Community Advisors Monday–Friday between 5–10 p.m. and Saturday–Sunday between noon–12 p.m.
Maps and Plans
Mail, Mailboxes, and Care Packages
Residents will start receiving mail and packages September 2021
Our mail services will be provided at The Green Community Center, off of Tilia Street and Citron Street. All deliveries will be accepted at the mail/package center.
There is one mailbox for each apartment. Mail will be provided to each student upon request with the showing of their student ID. All packages will be delivered to the mail/package center. Residents will be contacted via email when their package is available for pick up.
Mail & Package Pick-Up Hours
Monday–Friday, 9 a.m.–6 p.m.
Saturday–Sunday, 10 a.m.–4 p.m.
Mailing Address
Use the following address to send mail and packages to residents of The Green at West Village.
(student name)
(Building Address) (example: 298 Celadon Street)
(Apartment #)
Davis, CA 95616
Items in parenthesis should be customized with residents' specific information, including their names and room numbers.
Only apartment number is needed; do not include bedroom letter.
Move-In Information
Refer to the move-in webpage for information about moving in to The Green at West Village. Move-in details vary based upon the time of year.
The Green at West Village is owned by CHF-Davis I, LLC, a private non-profit housing enterprise. CHF-Davis I, LLC is neither owned nor controlled by the University of California. UC Davis Student Housing and Dining Services is acting as the agent of the owner.