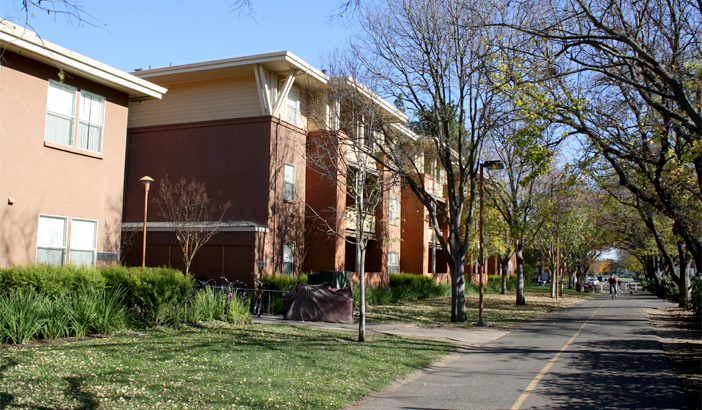 Primero Grove
Building Details
Primero Grove features the following:
Floors: 3 floors
Building Occupancy: about 100 students per building
Occupancy Type(s): single- and double-occupancy rooms
Room Configuration(s): apartment-style configuration: multiple bedrooms located off a shared living room
Room Dimensions: about 140 square feet
Bathrooms: 1 or 2 bathroom(s) in each suite
Laundry Facilities: there is a centrally located laundry room for the complex; it has 10 washing machines and 10 dryers; the machines require cash to operate
Flooring Type(s): all bedrooms are carpeted; kitchens and bathrooms have linoleum tile
Bed Type(s): all rooms have extra-long (80 inch) twin beds
Computer Network Connection(s): wireless
Landline Telephone Availability: optional
Mailbox Location: Exterior breezeway of Laurel near the Community Center
Utilities Provider: Read our Utilities Information to learn about Primero Grove's utilities.
Additional Notes: all units have a stove, oven and refrigerator; units do not have a microwave
Maps, Plans and Models
Living-Learning Communities
There are no Living-Learning Communities in Primero Grove.
Mail, Mailboxes, and Care Packages
Use the following address to send mail and packages to Primero Grove residents.
Packages that do not fit in a mailbox are held at the Area Service Desk. The ASD staff will notify residents via email when they receive a package that needs to be picked up.
Mailing Address
(student name)
500 Primero Grove Circle
Apartment (#)
Davis, CA 95616
Items in parenthesis should be customized with residents' specific information, including their names and room numbers.
Moving Into Primero Grove
Refer to the move-in webpage for information about moving in to Primero Grove. Move-in details vary based upon the time of year.
Building Namesake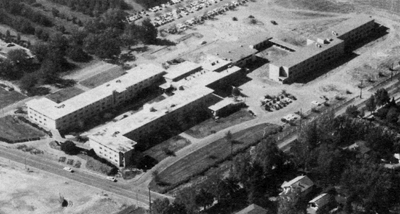 Primero Complex
This c. 1959 aerial view shows the Primero Complex of student dormitories formerly located southwest of Russell Blvd and California Ave. Built between 1951 and 1959, they were the first University-built, on-campus dormitories in the entire UC System. When completed, they were named for four long-time faculty members (Charles M. Titus, Louise C. Struve, Elmer H. Hughes, and Samuel H. Beckett) who took special interest in students. In 1997, these dorms were removed and replaced in 1999 by a new complex of four, three-story apartment buildings, which housed married students and transfers. Today, Primero Grove is being used by UC Davis Student Housing as residence halls.