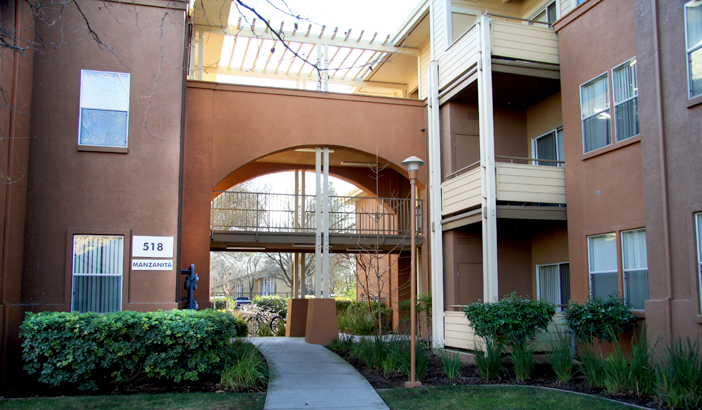 Primero Grove
About Primero Grove
Primero Grove is located on campus between Segundo Residence Halls and the International Center. It is comprised of four apartment buildings and a services building. The four buildings are Laurel, Magnolia, Manzanita, and Spruce. The services building has a large central room with seating and tables, the complex laundry room, and the complex office. Primero Grove offers studio, one bedroom, two bedroom, three bedroom, and four bedroom units with single and double bedroom occupancy options.
Property Details
Primero Grove features the following:
Buildings: 4 3-floor apartment buildings
Floorplans: studio, 1, 2, 3, and 4-bedroom apartments
Laundry Facilities: there is a centrally located laundry room for the property with 10 washing machines and 10 dryers; all machines are card-operated
Computer Network Connection(s): wireless
Mailbox Location: Exterior breezeway of Laurel near the Community Center
Included Utilities: Water, sewer, and garbage services included with lease agreement; PG&E is provided at the resident's expense
Utilities Provider: Read our Utilities Information to learn about Primero Grove's utilities
Additional Notes: all apartments have a stove, oven and refrigerator; Microwaves not included
Maps and Plans
Mail
Use the following address to send mail and packages to Primero Grove residents.
Packages that do not fit in a mailbox are held at the Leasing Office. The Primero Grove staff will notify residents via email when they receive a package that needs to be picked up.
Mailing Address
(student name)
500 Primero Grove Circle
Apartment (#)
Davis, CA 95616
Items in parenthesis should be customized with residents' specific information, including names and apartment numbers.
Building Namesake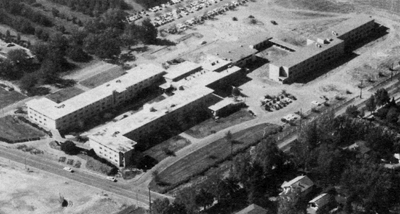 Primero Complex
This c. 1959 aerial view shows the Primero Complex of student dormitories formerly located southwest of Russell Blvd and California Ave. Built between 1951 and 1959, they were the first University-built, on-campus dormitories in the entire UC System. When completed, they were named for four long-time faculty members (Charles M. Titus, Louise C. Struve, Elmer H. Hughes, and Samuel H. Beckett) who took special interest in students. In 1997, these dorms were removed and replaced in 1999 by a new complex of four, three-story apartment buildings, which housed married students and transfers. Today, Primero Grove is being used by UC Davis Student Housing and Dining Services to house Students with Families and Single Graduate Students.