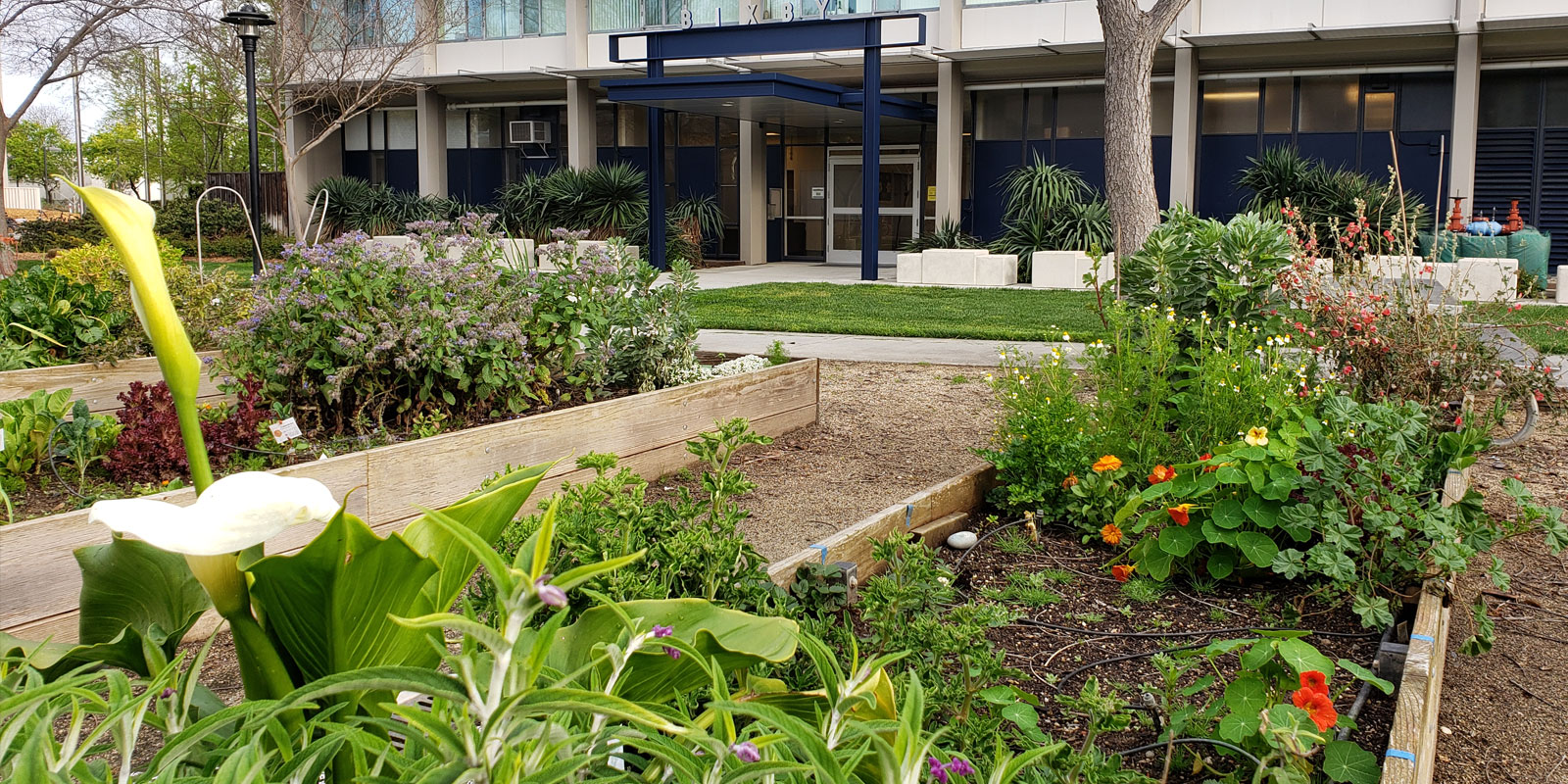 Resident Gardens
About the Resident Gardens
Student Housing and Dining Services maintains two garden spaces, the Resident Garden @ Segundo and Resident Garden @ Tercero for Cuarto, Segundo, and Tercero residents to experience hands-on gardening. Each garden has raised garden beds where on-campus residents can learn about edible and non-edible plants, how they are grown and cared for, and how they can be prepared.
Get Involved
Open Volunteer Hours
Residents can attend open volunteer hours hosted weekly by the Resident Garden Coordinator. During open volunteer hours, residents can assist with weeding, watering, harvesting, or other garden tasks, such as monitoring compost bins.
No prior gardening experience or materials are necessary to get involved at either garden space. Come grow with us!
Open volunteer hours are updated quarterly. Check the A-frame in the garden for posted hours or email shds.sustainability@ucdavis.edu for more info.
Adopt-a-Plot
Residents can also adopt a plot in the Segundo or Tercero garden for one quarter or longer to steward their own garden space. Adopt-a-plotters will have access to garden materials and mentorship. For more info and to apply, email shds.sustainability@ucdavis.edu.
Attend Programs
Resident Garden events are hosted quarterly where residents can learn more about gardening, explore sustainable food systems, and improve wellbeing. To learn about upcoming events, sign up for the weekly sustainability and nutrition newsletter.
Visit the Gardens
All residents are welcome to visit the garden outside of open volunteer hours.
In order to protect the health and safety of those consuming produce grown and here, please:
Keep non-service animals out of the garden
Do not enter the garden if you are not feeling well
Do not handle plants without sustainability staff present
Resident Garden @ Segundo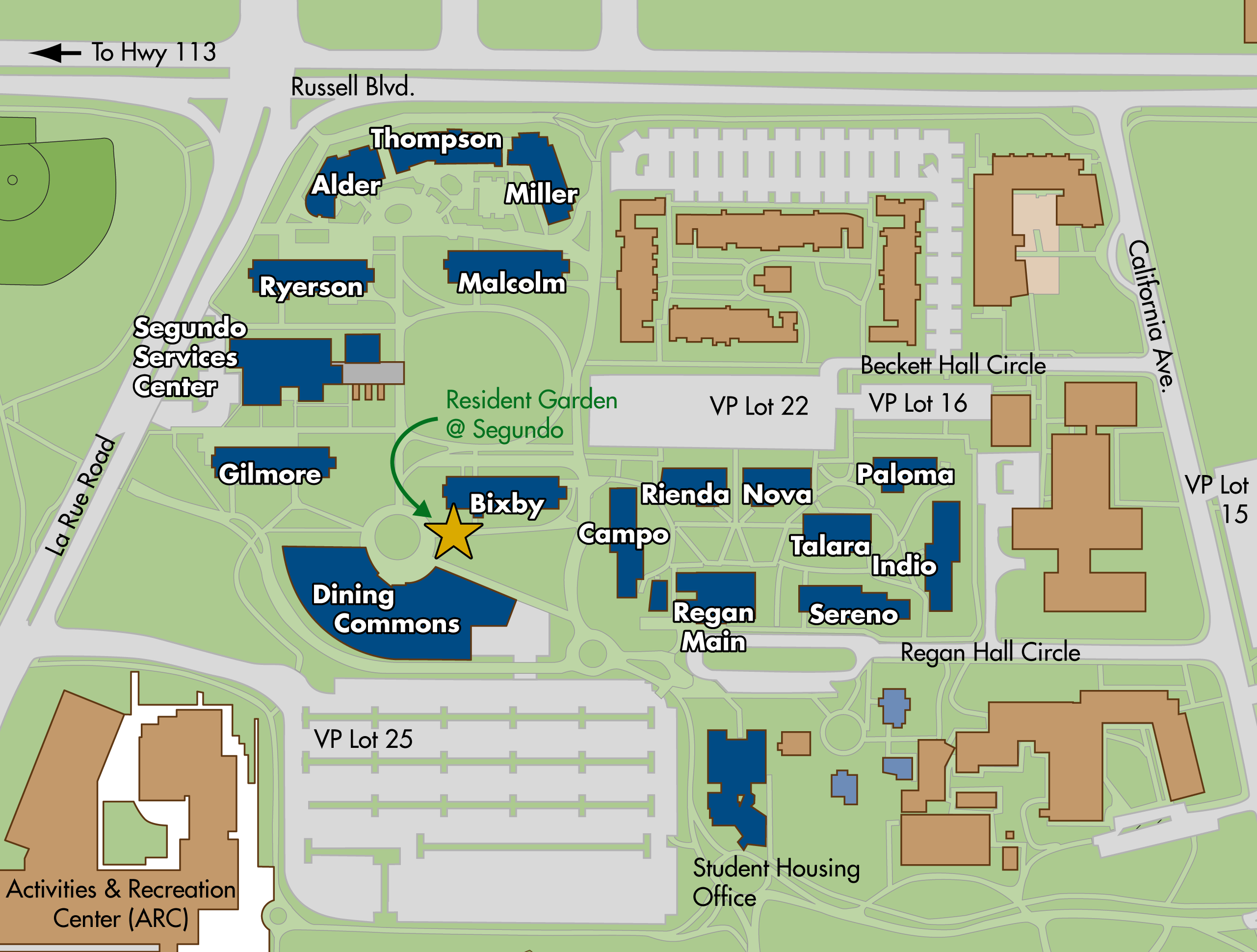 The Resident Garden @ Segundo is located just south of Bixby Hall and north of the Segundo Dining Commons.
Resident Garden @ Tercero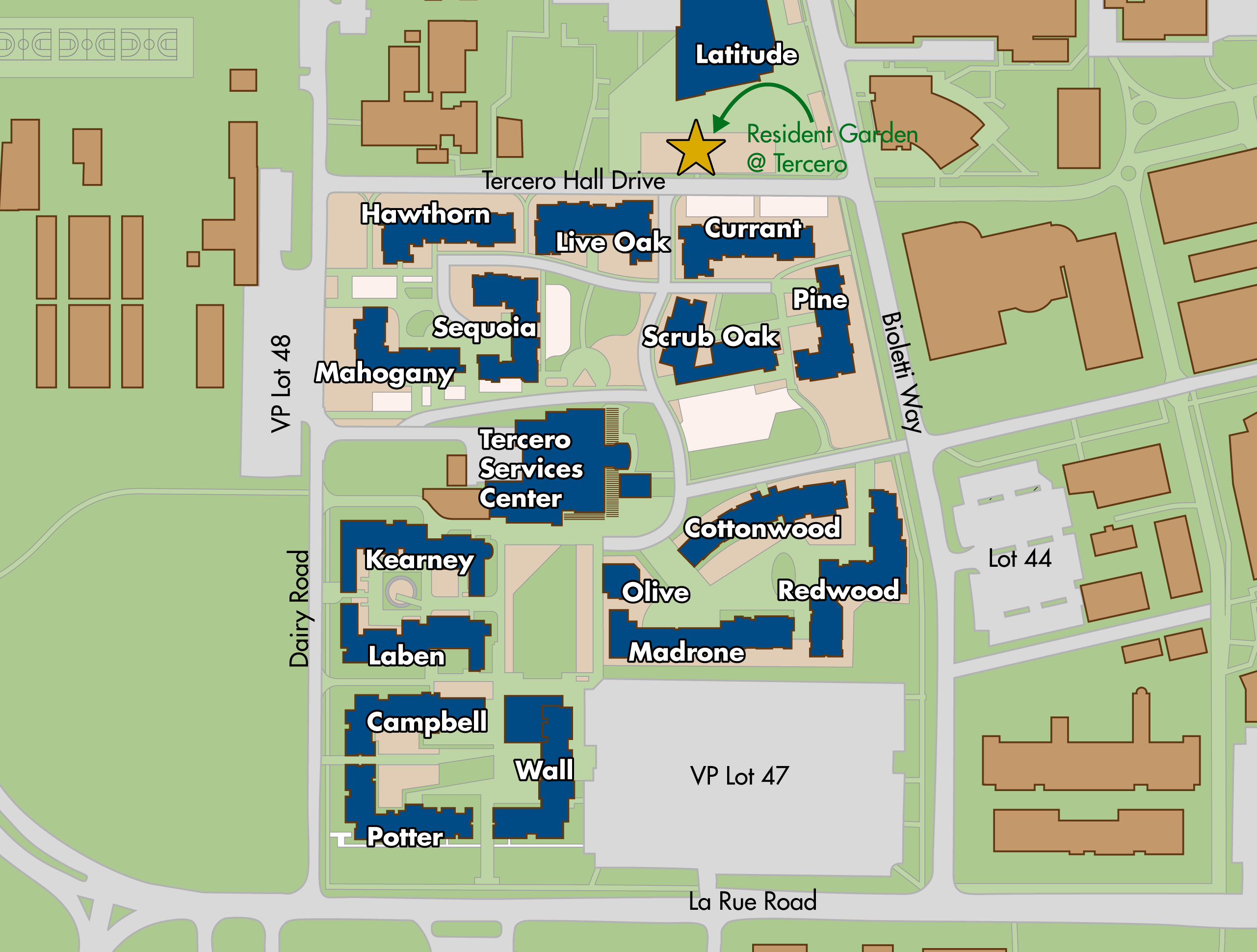 The Resident Garden @ Tercero is located just south of Latitude and north of Currant Hall.