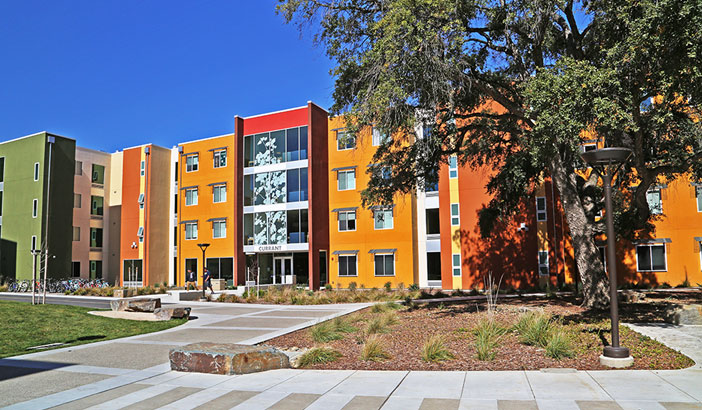 Currant Hall
Building Details
Currant Hall features the following:
Floors: 4 floors
Building Occupancy: about 200 Students
Occupancy Type(s): single-, double-, and triple-occupancy rooms
Room Configuration(s): standard configuration: all rooms are located directly off a main interior hallway
Room Dimensions: about 165 square feet
Bathrooms: single-gender bathrooms are located along main interior hallways at an interval of every 4-6 bedrooms
Laundry Facilities: there is one laundry room, located on the first floor; it has 6 washing machines and 6 dryers
Flooring Type(s): all bedrooms are carpeted; shared areas are a mixture of carpeted and tiled
Bed Type(s): all rooms have extra-long (80 inch) twin beds
Computer Network Connection(s): wired and wireless
Cable TV Connection: Coaxial and IPTV
Landline Telephone Availability: not available
Mailbox Location: Tercero Services Center
Living-Learning Communities
2018-19: University Honors Program
LEED / Environmental Impact
Currant Hall is LEED Platinum certified under the LEED-Building Design and Construction rating system, formerly known as New Construction and Major Renovations. Specifically, Tercero Phase 3, which includes Currant Hall, earned Group Certification, meaning all seven Phase 3 buildings collectively earned one certification.
The LEED green building certification program promotes a whole building sustainability approach by recognizing performance in five areas: sustainable site development, water savings, energy efficiency, materials selection and indoor environmental quality. Sustaibale features of Currant Hall include:
A condensing economizer uses energy derived from waste water vapor to provide heat and hot water for the buildings, saving hundreds of thousands of therms of natural gas.
The buildings exceed the state's energy efficiency requirements by more than 48 percent.
Indoor water usage requirements reduced 30%.
Outdoor water usage (landscaping) requires 50% less than the baseline.
All buildings are individually metered for water use and all energy systems.
95 percent of construction waste from the building project was diverted from the landfill.
Building materials are made from a minimum of 10% recycled content (based on cost).
10% of building materials are extracted or manufactured within 500 miles of the project site (based on cost).
Low-emitting materials were selected for adhesives, sealants, paints, coatings, flooring systems, composite wood and agrifiber products.
Read the UC Davis Dateline feature on Tercero Phase 3 to learn even more.
Mail, Mailboxes, and Care Packages
Use the following address to send mail and packages to Currant Hall residents.
There is one mailbox for each room. Currant Hall's mailboxes are located on the first floor of the Tercero Services Center.
Packages that do not fit in a mailbox are held at the Area Service Desk until residents can pick them up. The ASD notifies residents via email when they receive packages.
Mailing Address
(student name)
(room #) Currant Hall
584 Tercero Hall Drive
Davis, CA 95616
Items in parenthesis should be customized with residents' specific information, including their names and room numbers.
Maps, Plans and Models
Maps, plans and models coming soon.
Aggie Abodes
Watch the following videos to see what living in Currant Hall is like.
Move-In Information
Refer to the move-in webpage for information about moving in to Currant Hall. Move-in details vary based upon the time of year.
Building Namesake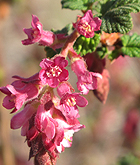 Currant
Ribes spp, California currant
California's currant species thrive in the multi-varied environments of California. These show-stopping shrubs are loved by birds for their delicious fruit, by insects and hummingbirds for their sweet winter nectar, and by humans for their fragrant leaves and rainy season flowers. Currants are found throughout the campus landscapes. In the Arboretum they are found hanging out in shade of their taller neighbors. The species featured in the photo, called the chaparral currant, Ribes malvaceum, loses its leaves but emerges in winter with eye-catching, chandelier-like flowers. Chaparral currants are easy to find in the Arboretum's Mary Wattis Brown Garden of California Native Plants. For more information visit the UC Davis Arboretum gardens webpage.
Information about California currants is provided by the UC Davis Arboretum. Please stay in touch! Like the UC Davis Arboretum on Facebook and sign-up for the Arboretum e-newsletter to stay informed of student learning opportunities.