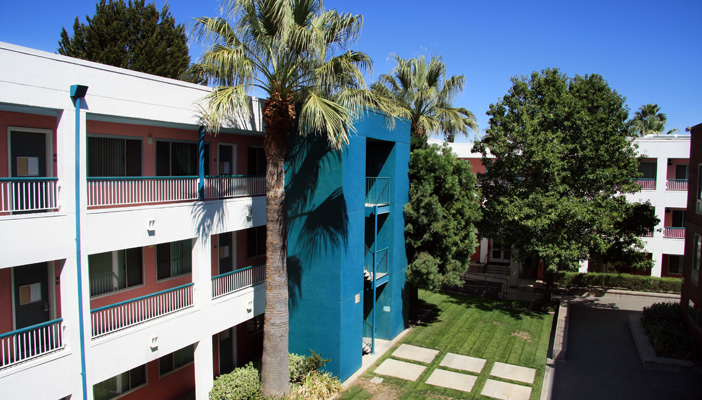 Emerson Hall
Building Details
Emerson Hall features the following:
Floors: 3 floors
Building Occupancy: about 500 students
Occupancy Type(s): double-occupancy rooms
Room Configuration(s): All rooms are part of a "suite" configuration; suites are like full apartments only without a kitchen

each suite features either 2 or 3 double-occupancy bedrooms, a fully-furnished shared living room, and a hallway with coat closet
all rooms are arranged off the living room; suite entrances are located directly off a main exterior corridor that is part of a gated, secure courtyard

Room Dimensions: about 150 square feet
Bathrooms: 1 or 2 bathroom(s) in each suite

2-bedroom (4 occupant) suites have 1 bathroom
3-bedroom (6 occupant) suites have 2 bathrooms
Laundry Facilities: there are three laundry rooms

Emerson Hall has two laundry rooms, each laundry room has 6 washing machines and 6 dryers
Webster Hall has one laundry room with 6 washing machines and 6 dryers

Flooring Type(s): all suites are carpeted, except for main entry and bathrooms
Bed Type(s): all rooms have extra-long (80 inch) twin beds
Computer Network Connection(s): wired and wireless
Cable TV Connection: Coaxial and IPTV
Landline Telephone Availability: not available
Mailbox Location: Emerson Hall (1st floor, near the lobby)
Utilities Provider: Read our Utilities Information to learn about Emerson Hall's utilities.
Additional Notes: both Emerson and Webster Halls feature a courtyard with swimming pool, spa, and patio; Emerson also features a 2nd landscaped courtyard; the Cuarto Computer Center is located in Emerson Hall; the Cuarto mailroom is located in Emerson Hall
Maps, Plans and Models
Living-Learning Communities
There are no Living-Learning Communities in Emerson Hall.
Moving Into Emerson Hall
Refer to the move-in webpage for information about moving in to Emerson Hall. Move-in details vary based upon the time of year.