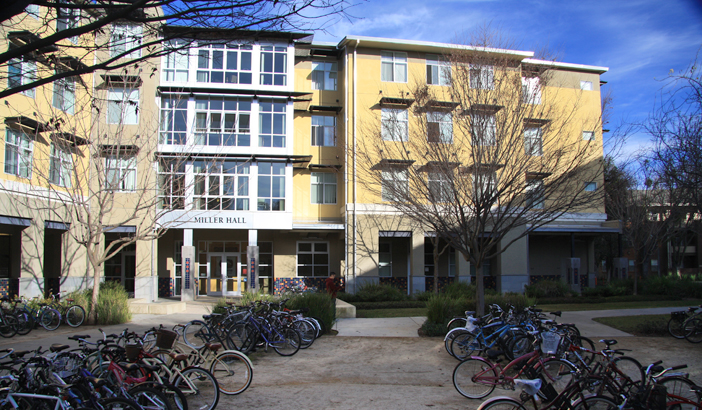 Miller Hall
Building Details
Miller Hall features the following:
Floors: 4 floors
Building Occupancy: about 200 students
Occupancy Type(s): double- and triple-occupancy rooms
Room Configuration(s): standard configuration: all rooms are located directly off a main interior hallway
Room Dimensions: approximately 10 feet x 20 feet
Bathrooms: bathrooms are located along main interior hallways at an interval of every 4-6 bedrooms
Laundry Facilities: there is one laundry room, located on the first floor; it has 6 washing machines and 6 dryers
Flooring Type(s): all bedrooms are carpeted
Bed Type(s): all rooms have extra-long (80 inch) twin beds
Computer Network Connection(s): wired and wireless
Cable TV Connection: Coaxial and IPTV
Landline Telephone Availability: not available
Mailbox Location: Segundo Services Center
Utilities Provider: Read our Utilities Information to learn about Miller Hall's utilities.
Additional Notes: in lieu of traditional built-in closets, all rooms have wardrobes that measure approximately 6 feet x 2 feet, 8 inches x 2 feet and have two drawers and one shelf; triple-occupancy rooms have three wardrobes; in addition to the wardrobes, additional storage closets are located off the interior hallway
Maps, Plans and Models
Living-Learning Communities
2019-20: Aggie Business Leaders & Entrepreneurs (ABLE)
2020-21: Aggie Business Leaders & Entrepreneurs (ABLE)
Mail, Mailboxes, and Care Packages
Use the following address to send mail and packages to Miller Hall residents.
There is one mailbox for each room. Miller Hall's mailboxes are located on the first floor of the Segundo Services Center.
Packages that do not fit in a mailbox are held at the Area Service Desk until residents can pick them up. The ASD notifies residents via email when they receive packages.
Mailing Address
(student name)
(room #) Miller Hall
1079 La Rue Road
Davis, CA 95616
Items in parenthesis should be customized with residents' specific information, including their names and room numbers.
Building Namesake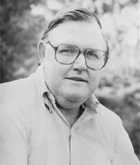 R. Bryan Miller
Professor of Chemistry
Born: 1940
Deceased: 1998
Professor Bryan Miller's career at the University of California, Davis typified three decades of exemplary service. His passion was organic chemistry and he was a devoted teacher. He established a research program in which the elegance of his ideas revealed organic chemistry to be as much of an art as a science. He had the capacity to view problems from the student's point of view, crafting presentations and pedagogical aids that engaged students in the scientific process. Professor Miller succeeded as a teacher because he felt that his success lay in ultimately transforming the faculty-student relationship into one of mutual intellectual interaction. He mentored graduate and undergraduate students alike, teaching the value of responsible scholarship and self-reliance. He approached teaching with a profound respect for the student. It was this respect that made his efforts significant on the Davis campus and appreciated by the students who benefited from them. Professor Miller enriched his colleagues and his students with his energy and spirit