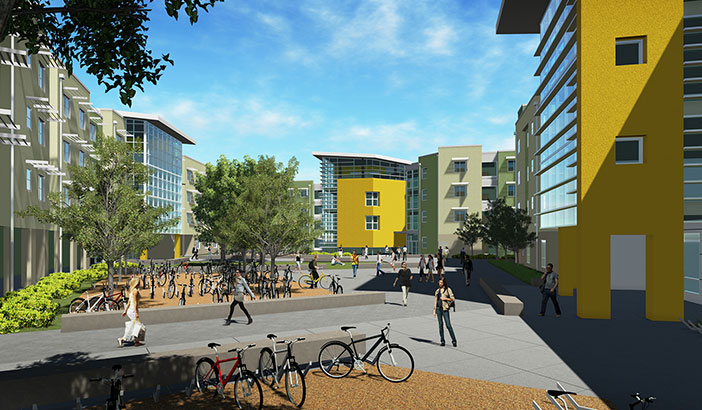 Redwood Hall
Building Details
Redwood Hall features the following:
Floors: 4 floors
Building Occupancy: about 200 Students
Occupancy Type(s): single-, double-, and triple-occupancy rooms
Room Configuration(s): standard configuration: all rooms are located directly off a main interior hallway
Room Dimensions: about 165 square feet
Bathrooms: single-gender bathrooms are located along main interior hallways at an interval of every 4-6 bedrooms
Laundry Facilities: there is one laundry room, located on the first floor; it has 6 washing machines and 6 dryers
Flooring Type(s): all bedrooms are carpeted; shared areas are a mixture of carpeted and tiled
Bed Type(s): all rooms have extra-long (80 inch) twin beds
Computer Network Connection(s): wired and wireless
Cable TV Connection: IPTV (no coaxial)
Landline Telephone Availability: not available
Mailbox Location: Tercero Services Center
Utilities Provider: Read our Utilities Information to learn about Redwood Hall's utilities.
Additional Notes: Redwood Hall has a study room on the first floor
Maps, Plans and Models
Living-Learning Communities
2018-19: Middle East/South Asian (ME/SA)
Mail, Mailboxes, and Care Packages
Use the following address to send mail and packages to Redwood Hall residents.
There is one mailbox for each room. Redwood Hall's mailboxes are located on the first floor of the Tercero Services Center.
Packages that do not fit in a mailbox are held at the Area Service Desk until residents can pick them up. The ASD notifies residents via email when they receive packages.
Mailing Address
(student name)
(room #) Redwood Hall
363 Bioletti Way
Davis, CA 95616
Items in parenthesis should be customized with residents' specific information, including their names and room numbers.
Building Namesake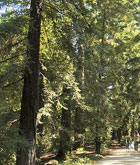 Redwood
Sequoia sempervirens, coast redwood
Our campus is home to well over 600 redwoods including a large grove in one of the most popular areas of the the UC Davis Arboretum — the T. Elliot Weier Redwood Grove. Here we feature one of the largest collections of coast redwood trees outside their native range. Although redwoods have been planted all over the world, the only place they grow naturally is along the coast of California and southern Oregon. The coast redwood is the tallest tree species on earth while the giant sequoia (Sequoiadendron gigantea), is the biggest tree by volume; both are considered California's state tree. Their roots intertwine with one another which increases their stability during strong winds and floods, their thick bark provides protection and insulation, and they don't produce resin or pitch.
Information about coast redwoods is provided by the UC Davis Arboretum. Please stay in touch! Like the UC Davis Arboretum on Facebook and sign-up for the Arboretum e-newsletter to stay informed of student learning opportunities.