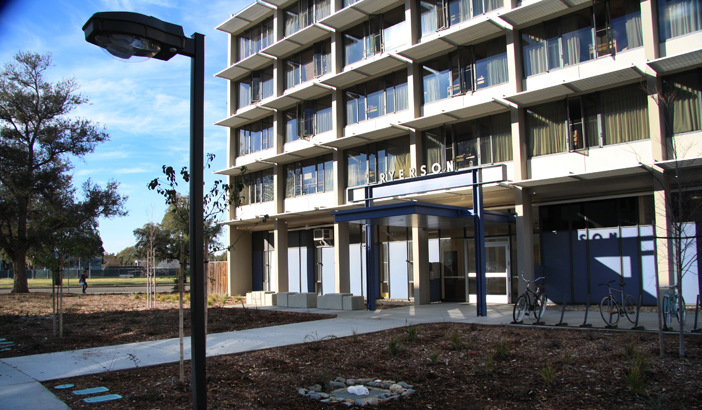 Ryerson Hall
Building Details
Ryerson Hall features the following:
Floors: 5 - 1 main floor and 4 residential floors
Building Occupancy: about 200 students
Occupancy Type(s): double-occupancy rooms
Room Configuration(s): standard configuration: all rooms are located directly off a main interior hallway
Room Dimensions:

double-occupancy: approximately 10 feet, 6 inches x 13 feet, 6 inches
Bathrooms: there are 2 bathrooms on each floor: one male bathroom and one female bathroom
Laundry Facilities: there is 1 laundry room on each floor; each laundry room has 2 washing machines and 2 dryers
Flooring Type(s): all bedrooms are carpeted
Bed Type(s): all rooms have extra-long (80 inch) twin beds
Computer Network Connection(s): wired and wireless
Cable TV Connection: Coaxial and IPTV
Landline Telephone Availability: not available
Mailbox Location: Segundo Services Center
Utilities Provider: Read our Utilities Information to learn about Ryerson Hall's utilities.
Maps, Plans and Models
Aggie Abodes
Watch the following videos to see what living in Ryerson Hall is like.
Living-Learning Communities
There are no Living-Learning Communities in Ryerson Hall.
Mail, Mailboxes, and Care Packages
Use the following address to send mail and packages to Ryerson Hall residents.
There is one mailbox for each room. Ryerson Hall's mailboxes are located on the first floor of the Segundo Services Center, by the Area Service Desk.
Packages that do not fit in a mailbox are held at the Area Service Desk. The ASD staff will notify residents via email when they receive a package that needs to be picked up.
Mailing Address
(student name)
(room #) Ryerson Hall
1063 La Rue Road
Davis, CA 95616
Items in parenthesis should be customized with residents' specific information, including their names and room numbers.
Moving Into Ryerson Hall
Refer to the move-in webpage for information about moving in to Ryerson Hall. Move-in details vary based upon the time of year.
Building Namesake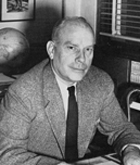 Knowles A. Ryerson
Born: 1882
Deceased: 1990
Ryerson hall was completed in 1963, and named in honor of Knowles A. Ryerson. Dr. Ryerson received a B.S. in horticulture from UC Berkeley and later earned a masters degree, and its highest academic honor, the LL.D degree from UC Berkeley in 1961. A professor of Horticulture and the director of the College of Agriculture at Davis from 1917 to 1952, Dr. Ryerson was named Dean of the College of Agriculture at Berkeley in 1952 and held that post until his retirement in 1960. UC Davis Chancellor Hullar said of Dr. Ryerson after his death: "Knowles was at the center of the magnificent growth and stature of the Davis campus. As Assistant Dean of Agriculture at Davis for 15 years, from 1937 to 1952, he was so instrumental in setting the College of Agriculture on the course that has given rise to its strength and impressive quality and to the comprehensive Davis campus of today. All of us at Davis have a keen debt to the Ryerson era."