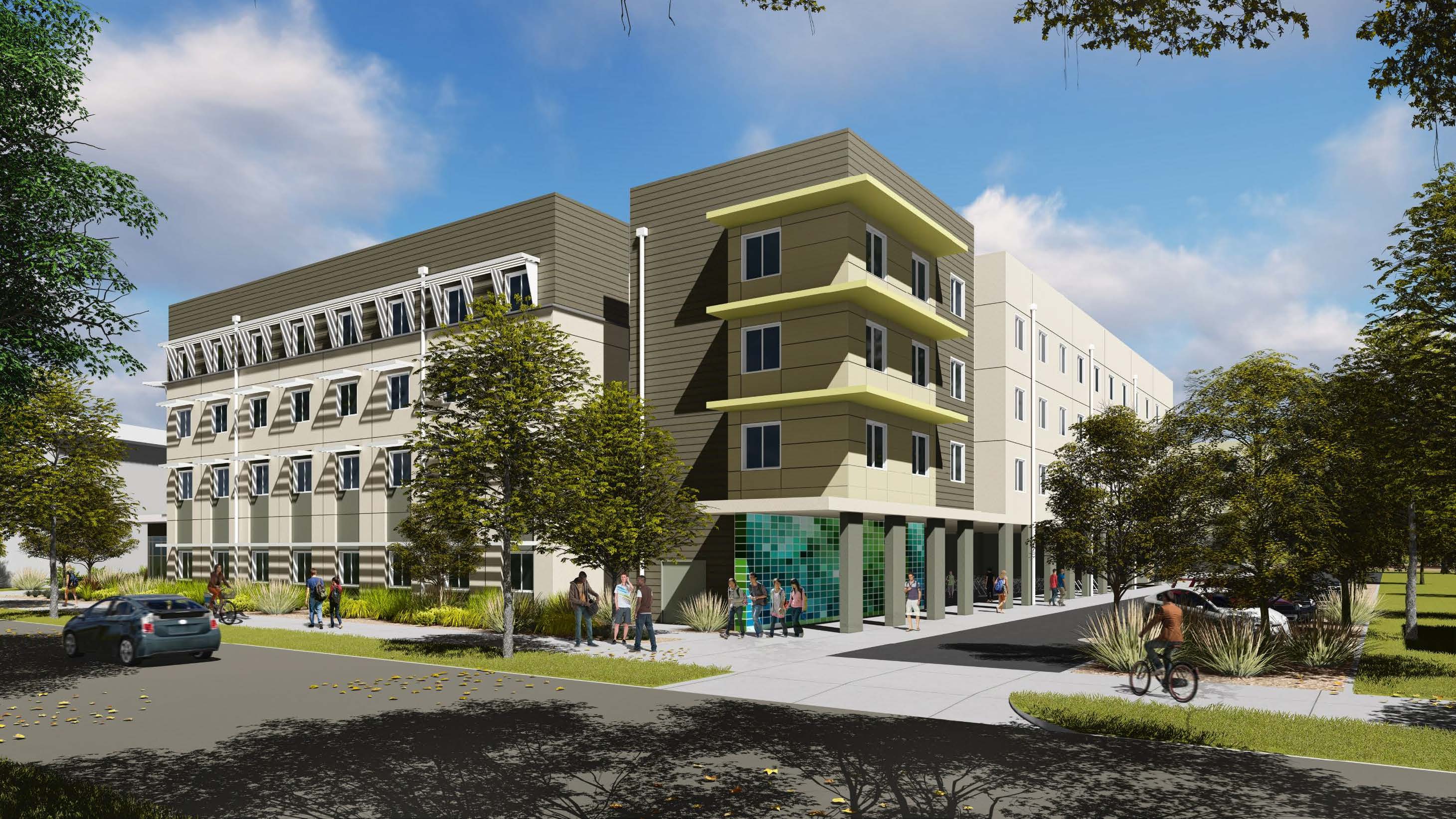 Yosemite Hall
Building Details
Yosemite Hall features the following:
Floors: 4 floors
Building Occupancy: about 390 students total
Occupancy Type(s): double- and triple-occupancy rooms
Room Dimensions: about 225 square feet
Bathrooms: 1 bathroom(s) for each suite
Laundry Facilities: there is one laundry room with 6 washing machines and 6 dryers
Flooring Type(s): all suites are carpeted, except for main entry and bathrooms
Bed Type(s): all rooms have extra-long (80 inch) twin beds
Computer Network Connection(s): wired and wireless
Cable TV Connection: IPTV (no coaxial)
Landline Telephone Availability: not available
Mailbox Location: Yosemite Hall (1st floor)
Utilities Provider: Read our Utilities Information to learn about Yosemite Hall's utilities.
Additional Notes: Yosemite Hall features a relaxing outdoor courtyard with benches, planters, and grass and masonry paver areas
Maps, Plans and Models
Living-Learning Communities
2023-24: Native American Program
Mail, Mailboxes, and Care Packages
Use the following address to send mail and packages to Yosemite Hall residents.
There is one mailbox for each suite. Yosemite Hall's mailboxes are located on the first floor of Yosemite Hall, by the Area Service Desk.
Packages that do not fit in a mailbox are held at the Area Service Desk. The ASD staff will notify residents via email when they receive a package that needs to be picked up.
Mailing Address



,
Items in parenthesis should be customized with residents' specific information, including their names and room numbers.
Moving Into Yosemite Hall
Refer to the move-in webpage for information about moving in to Yosemite Hall. Move-in details vary based upon the time of year.