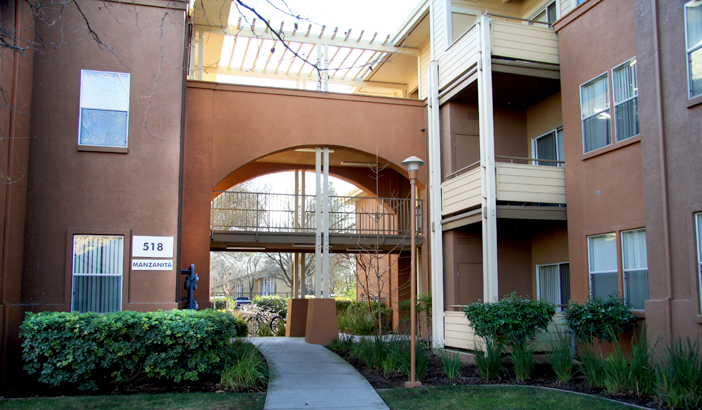 Primero Grove
A Student Housing Apartments Community
About Primero Grove
Primero Grove is located on campus between Segundo Residence Halls and the International Center. It is comprised of four apartment buildings and a services building. The four buildings are Laurel, Magnolia, Manzanita, and Spruce. The services building has a large central room with seating and tables, the complex laundry room, and the complex office. Primero Grove offers studio, one bedroom, two bedroom, three bedroom, and four bedroom units with single and double bedroom occupancy options.
Building Details
Primero Grove features the following:
Floors: 3 floors
Building Occupancy: about 125 students per building; about 500 students total
Occupancy Type(s): single- and double-occupancy rooms
Room Configuration(s): apartment-style configuration: multiple bedrooms located off a shared living room
Room Size: Ranges from about 83 to 132 square feet
Bathrooms: 1 or 2 bathroom(s) in each apartment
Laundry Facilities: there is a centrally located laundry room for the complex; it has 10 washing machines and 10 dryers; the machines require cash to operate
Flooring Type(s): all bedrooms are carpeted; kitchens and bathrooms have linoleum tile
Bed Type(s): all rooms have extra-long (80 inch) twin beds
Computer Network Connection(s): eduroam wireless
Landline Telephone Availability: optional
Mailbox Location: Exterior breezeway of Laurel near the Community Center
Additional Notes: all units have a stove, oven, dishwasher, and refrigerator; units do not have a microwave
SHA Population: 280-400 students
Amenities: Community room with TV, study room, and BBQ area
Parking: Parking is available but not guaranteed
Maps and Plans
Mail, Mailboxes, and Care Packages
Use the following addresses to send mail and packages to Primero Grove residents.
Mailing Addresses
Laurel Building
(student name)
506 Primero Grove Circle
Apartment (#)
Davis, CA 95616
Magnolia Building
(student name)
512 Primero Grove Circle
Apartment (#)
Davis, CA 95616
Manzanita Building
(student name)
518 Primero Grove Circle
Apartment (#)
Davis, CA 95616
Spruce Building
(student name)
500 Primero Grove Circle
Apartment (#)
Davis, CA 95616
Items in parenthesis (above) should be customized with residents' specific information, including their names and apartment numbers.
There is one mailbox for each room. All of Primero Grove's mailboxes are located in the exterior breezeway of Laurel near the community center.
Packages that do not fit in a mailbox are held at the Primero Grove office until residents can pick them up. The Primero Grove office is open 8 a.m. to 5 p.m. Monday through Friday, excluding holidays.
Move-In Information
Refer to the move-in webpage for information about moving in to Primero Grove. Move-in details vary based upon the time of year.