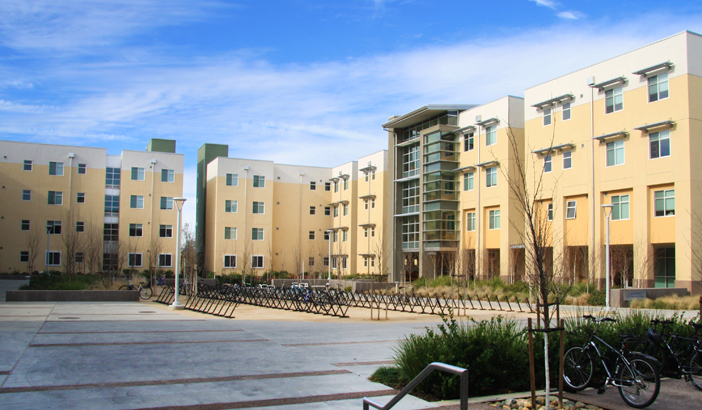 Campbell Hall
Building Details
Campbell Hall features the following:
Floors: 4 floors
Building Occupancy: about 200 Students
Occupancy Type(s): single-, double- and triple-occupancy rooms
Room Configuration(s): standard configuration: all rooms are located directly off a main interior hallway
Room Dimensions: about 165 square feet
Bathrooms: bathrooms are located along main interior hallways at an interval of every 4-6 bedrooms; the majority of bathrooms are gender inclusive
Laundry Facilities: there is one laundry room, located on the first floor; it has 7 washing machines and 8 dryers
Flooring Type(s): all bedrooms are carpeted; shared areas are a mixture of carpeted and tiled
Bed Type(s): all rooms have extra-long (80 inch) twin beds
Computer Network Connection(s): wired and wireless
Cable TV Connection: Coaxial and IPTV
Landline Telephone Availability: not available
Mailbox Location: Tercero Services Center
Utilities Provider: Read our Utilities Information to learn about Campbell Hall's utilities.
Maps, Plans and Models
Aggie Abodes
Watch the following videos to see what living in Campbell Hall is like.
Living-Learning Communities
2022-23: African American & African (AAA)
2023-24: African American & African (AAA)
Mail, Mailboxes, and Care Packages
Use the following address to send mail and packages to Campbell Hall residents.
There is one mailbox for each room. Campbell Hall's mailboxes are located on the first floor of the Tercero Services Center, by the Area Service Desk.
Packages that do not fit in a mailbox are held at the Area Service Desk. The ASD staff will notify residents via email when they receive a package that needs to be picked up.
Mailing Address



,
Items in parenthesis should be customized with residents' specific information, including their names and room numbers.
Moving Into Campbell Hall
Refer to the move-in webpage for information about moving in to Campbell Hall. Move-in details vary based upon the time of year.
Building Namesake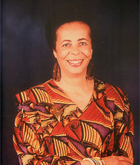 Leslie Campbell
Senior Associate Director — Undergraduate Admissions
Hired: 1975
Retired: 2004
Deceased: 2005
During her career of almost 30 years of service to the Davis campus, from 1975 to 2003, Leslie Campbell was a driving force and stalwart champion of educational opportunities for all people, especially those in underserved communities. As a leader in the office of Undergraduate Admissions, she created many innovative and successful outreach and recruitment programs and assisted to shape admissions policies for the university. Through her work, Leslie also touched many lives across the campus. Her contributions to undergraduate education and to students were recognized with such honors as being selected to serve as the first woman Grand Marshall of Picnic Day in 1989 and receiving the 2011 Deanna E. Falge Award, an award which acknowledges dedicated service to the promotion of diversity initiatives. She is especially remembered for her lasting and enduring contributions to the African American community, including her work with the Black Family Week Cultural Programs and helping to establish the annual Leadership Conference. To her students, Leslie was an inspirational mentor, leader and role model.